WORKS
鎌倉の家
HOUSE OF KAMAKURA
古都・鎌倉~明月院に程近い、緑豊かな地に建てられた住宅である。
鎌倉の緑は趣深い。歴史的文化遺産の大半が、背後丘陵の自然的環境と一体を成し、独特の風土を形成している。
Kamakura, the ancient capital of Japan - This house was built in a lush green area close to Meigetsuin Temple.
The greenery of Kamakura is atmospheric. Most of the historical and cultural heritage is integrated with the natural environment of the hills behind, forming a unique climate.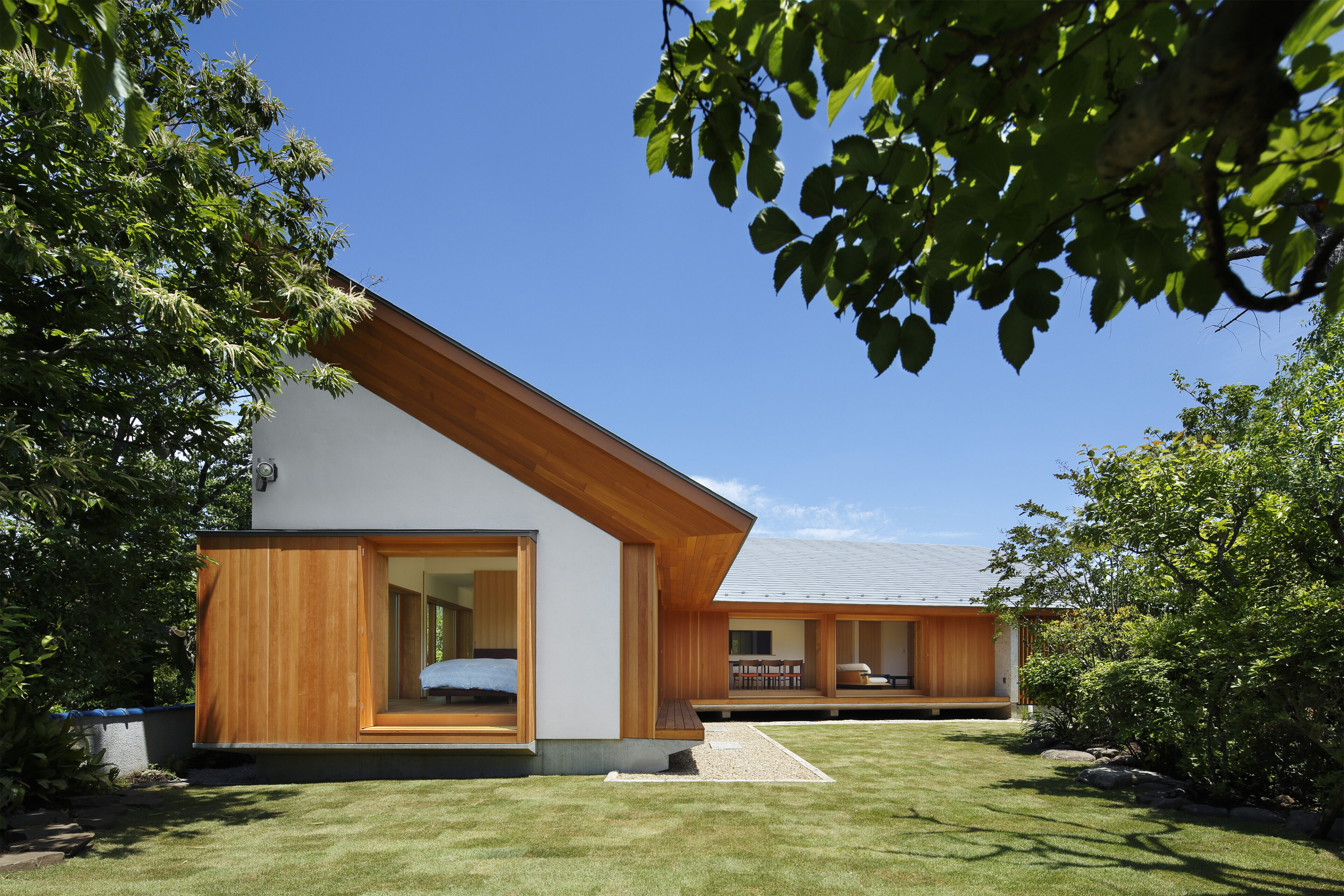 この建物は既存の母屋を持つ。この地で積み重ねられた歳月により、その佇まいは品が良く美しい。新しい建物にもその風情を守り、実際に生活されるご家族の希望を反映しながら丁寧に計画を進めてきた。
This building has an existing main house. The years of living in this area have given the building a refined and beautiful appearance. We carefully planned the new building to preserve this appearance and to reflect the wishes of the family who will actually live in the house.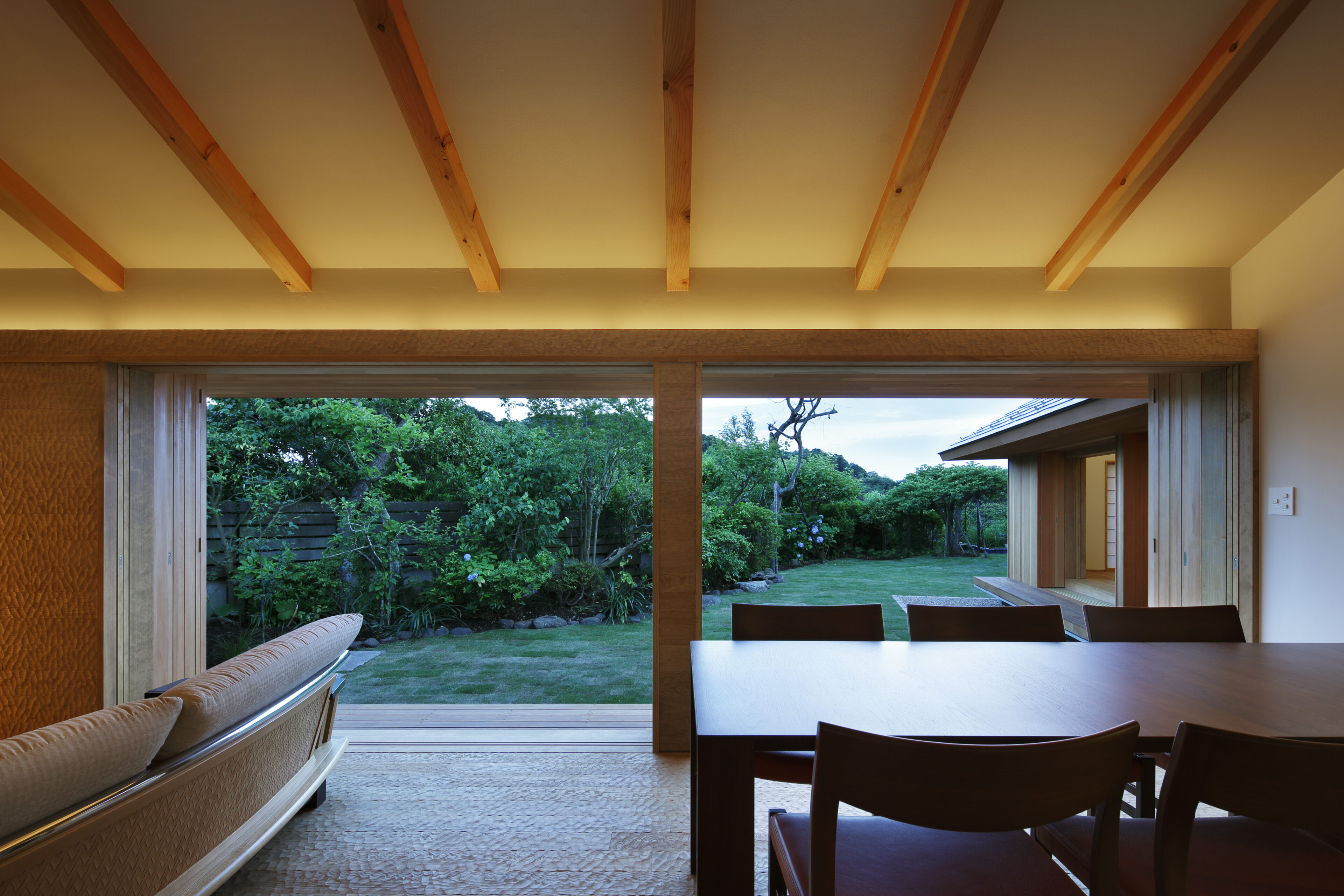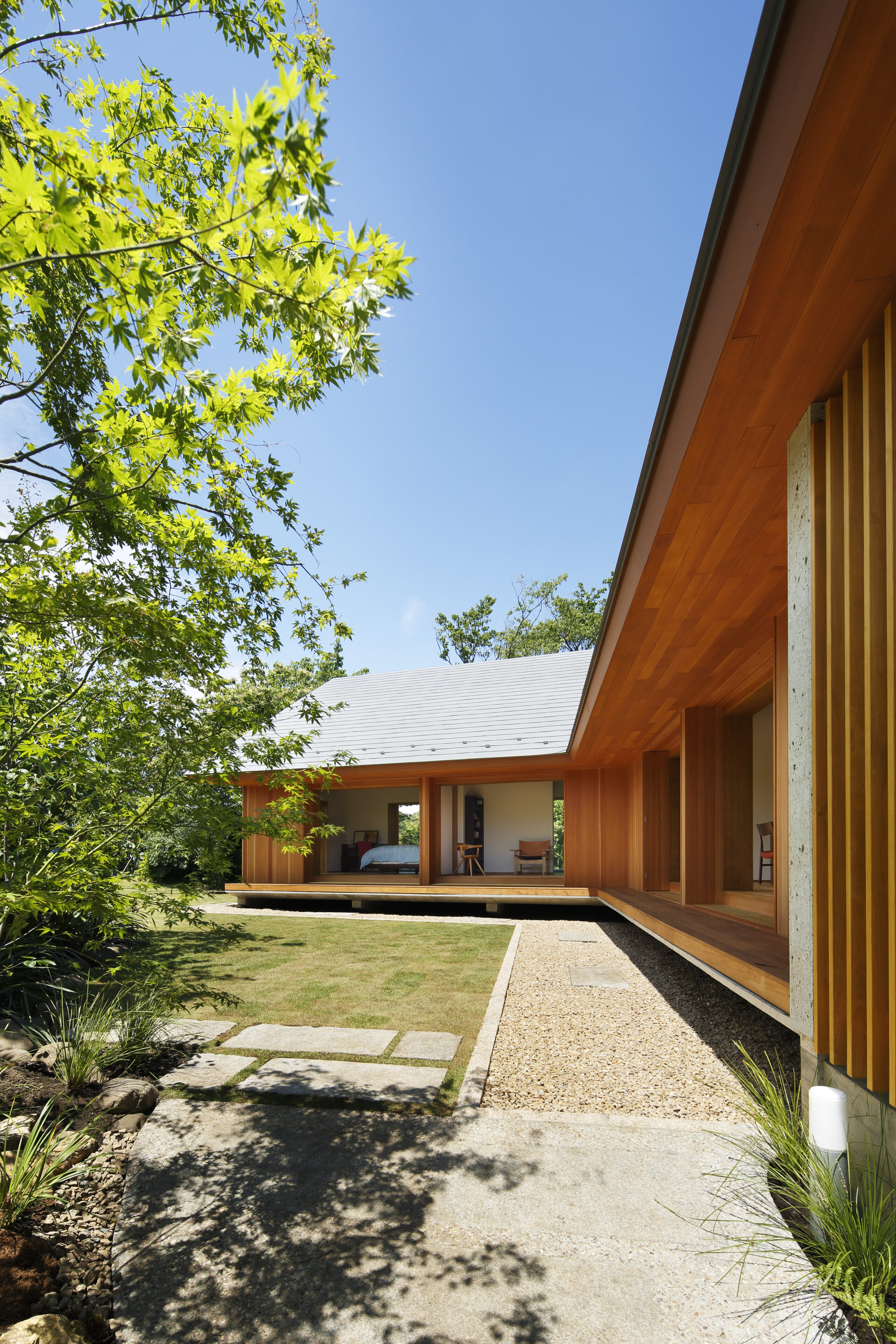 周辺風景とこの地の文化を意識すれば、おのずと質実剛健な建物に辿り着く。通風・採光・安全といった居住性を、現代の暮らし方において満たすことができる~すなわち利便も伴う機能の確保は必須である。それを踏まえ、総合的に目指したのは「過不足のない主張=適正・適性」である。すなわち過剰設計とならぬよう寸尺に配慮し、材の「適性」を見極め、用いる箇所と分量の「適正」にこだわった。
If one is conscious of the surrounding landscape and the culture of the region, one will naturally arrive at a building of solid quality and soundness. It is essential that the building be able to satisfy the modern way of living in terms of ventilation, lighting, and safety - in other words, it is essential to secure functions that also bring convenience. Based on this, our overall goal was to create a building that is "appropriate and suitable" (i.e., not too much or too little). In other words, to avoid over-design, we took into consideration the dimensions, determined the "suitability" of the materials, and focused on the "appropriateness" of the parts and quantities used.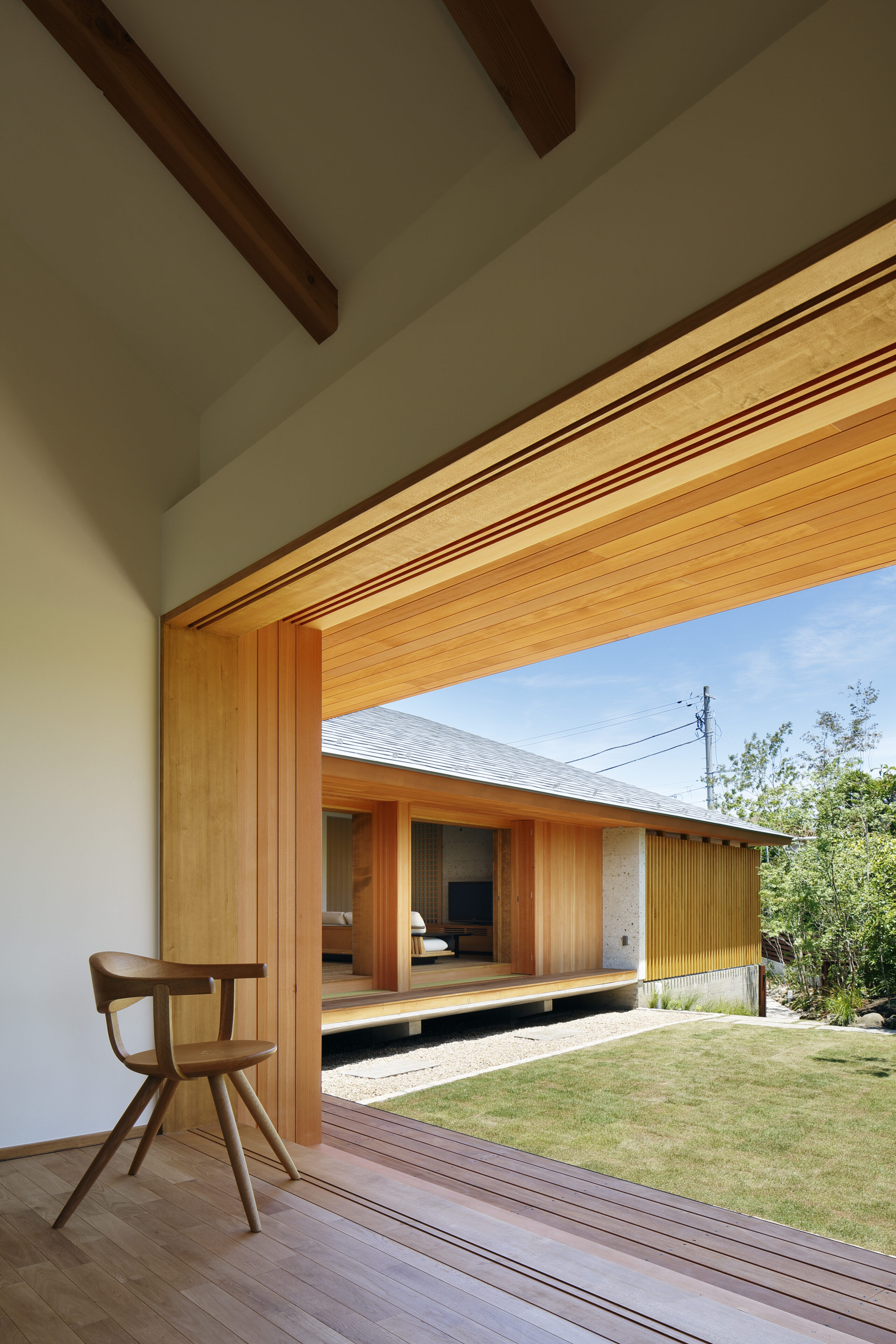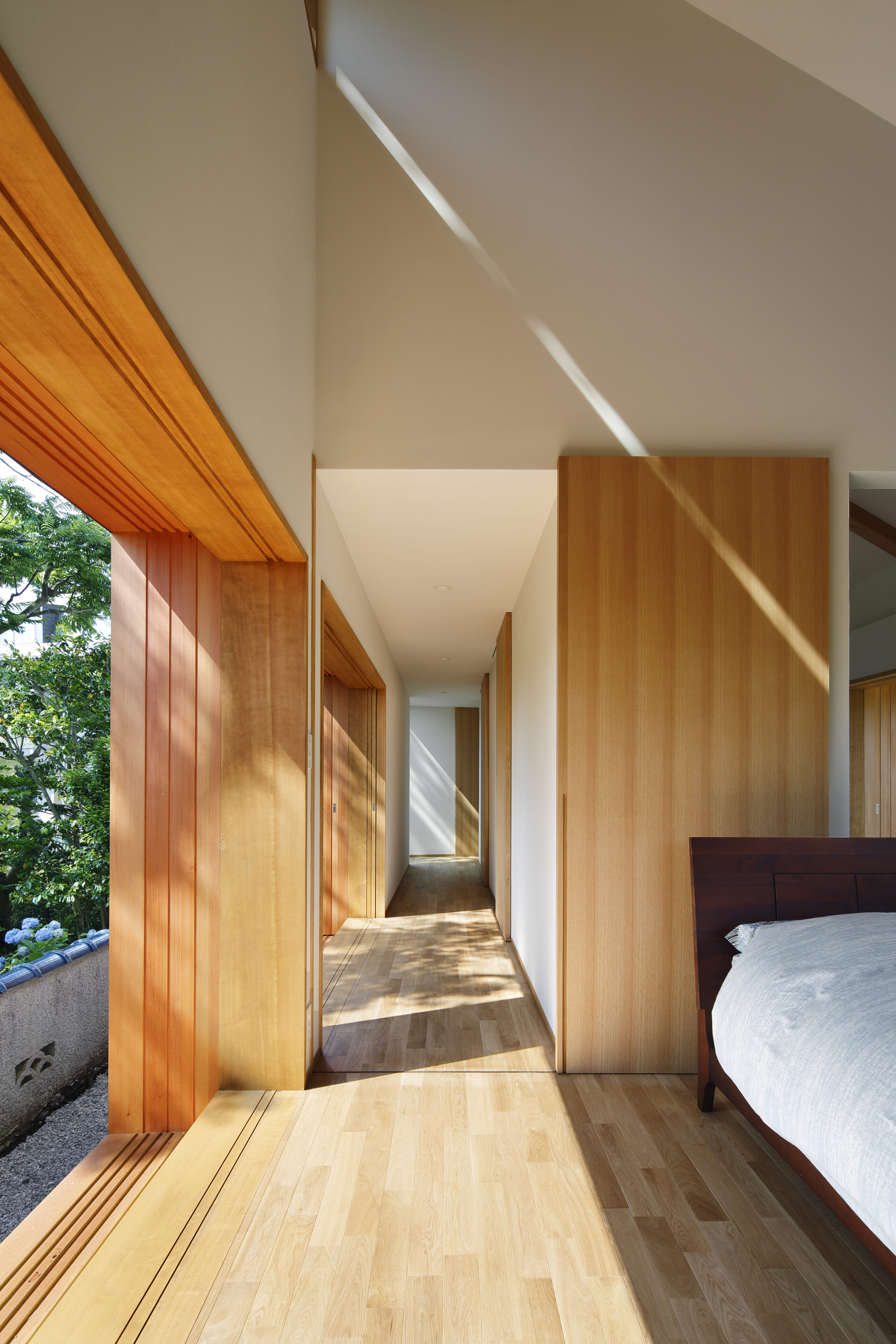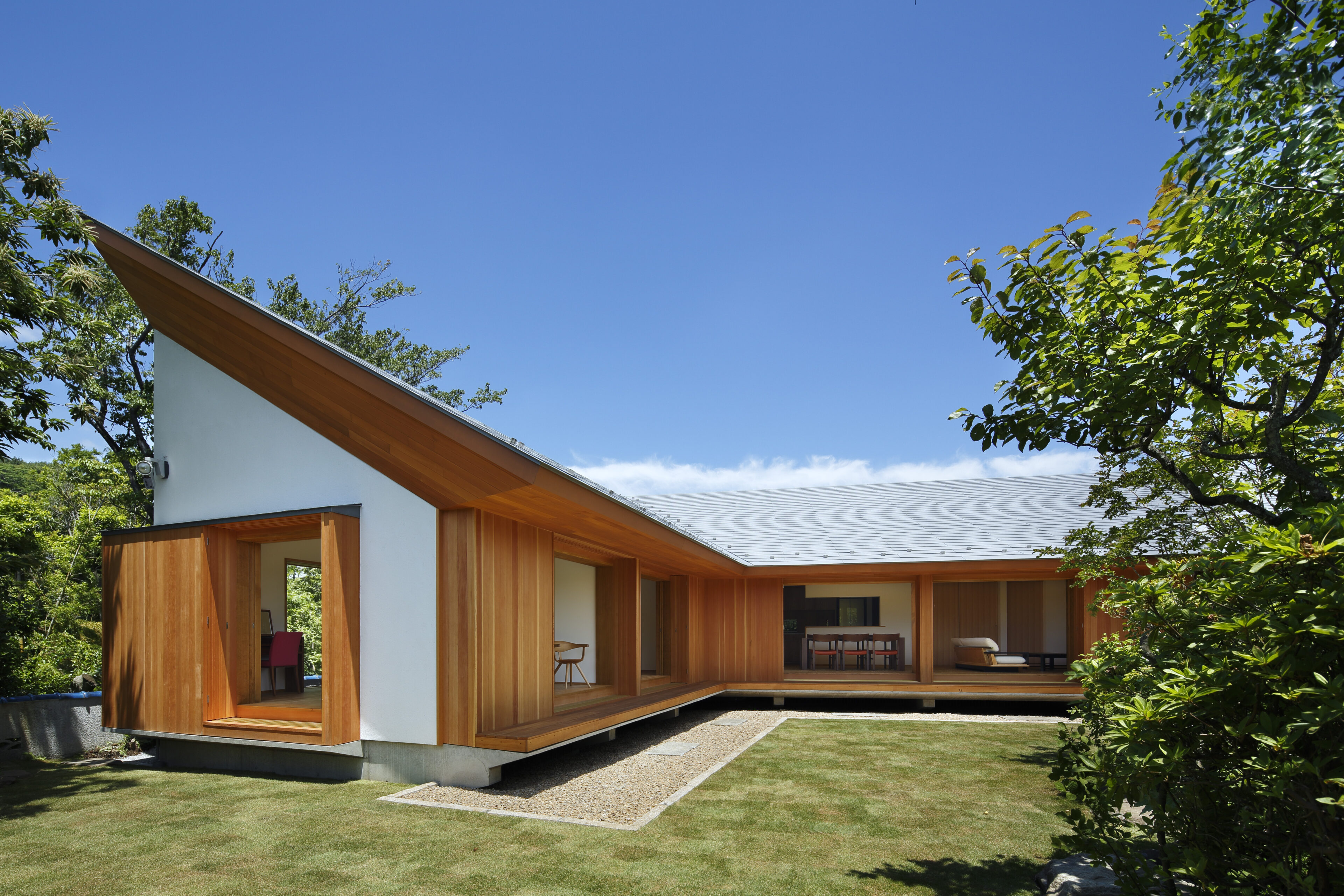 軒を深く取った低重心の外観は、見た目・質ともに安定感に重きを置いた。また、室内外とも全体の色調には経年がもたらす変化を考慮している。鎌倉の地にある歴史的建造物はほぼ現代的な原色を持たず、クライアントの母屋にもその特色が感じられる。よって、建物はいずれも単体であるが、この場合、周辺および近景風景との調和は殊更に重要であると考えた。天然素材の色味は経年を味方につけ、その風貌を落ち着きのある風情に変化させる。建物の配置は、敷地の形状に則って、かつ内部空間の距離間を最大限に生かすためのプランとなっている。
The low-profile exterior with deep eaves emphasizes stability in both appearance and quality. In addition, the overall color scheme, both inside and outside, takes into consideration the changes that age will bring. Historical buildings in Kamakura have almost no modern primary colors, and the client's main building also shows this characteristic. Therefore, although each building is a stand-alone structure, in this case, harmony with the surrounding and nearby landscape was especially important. The colors of the natural materials will change their appearance over time, giving the buildings a calm and serene appearance. The layout of the building follows the shape of the site and maximizes the distance between the interior spaces.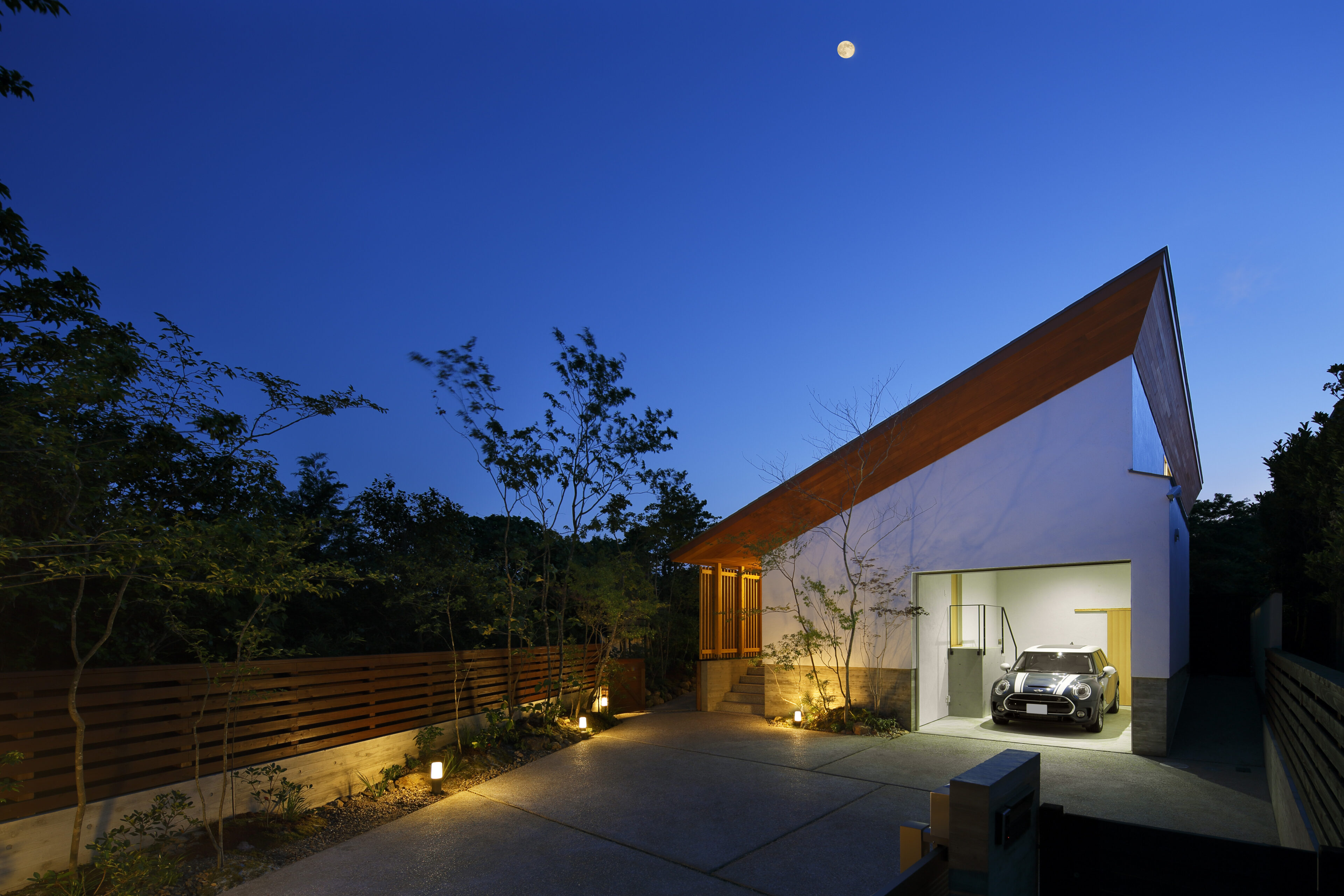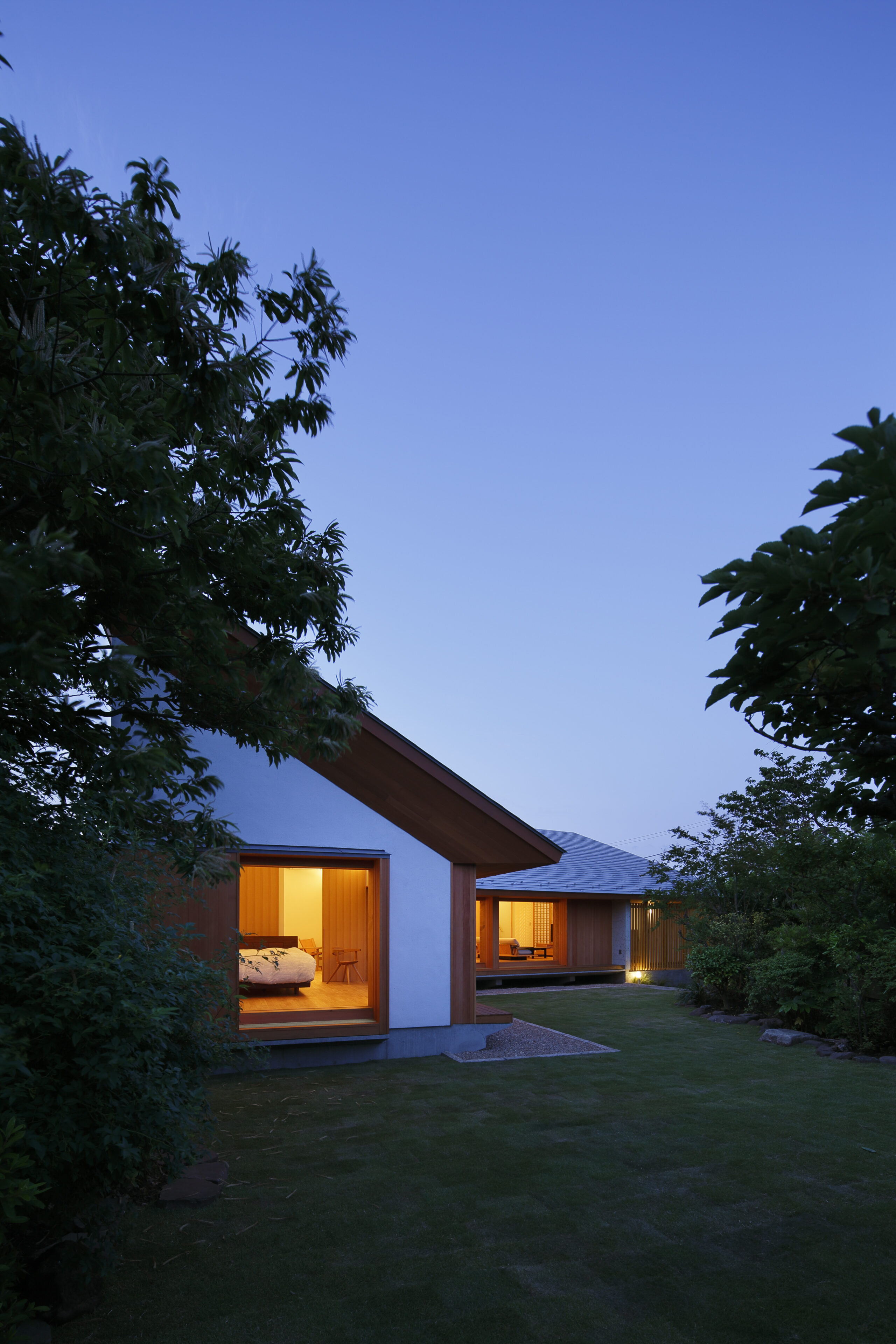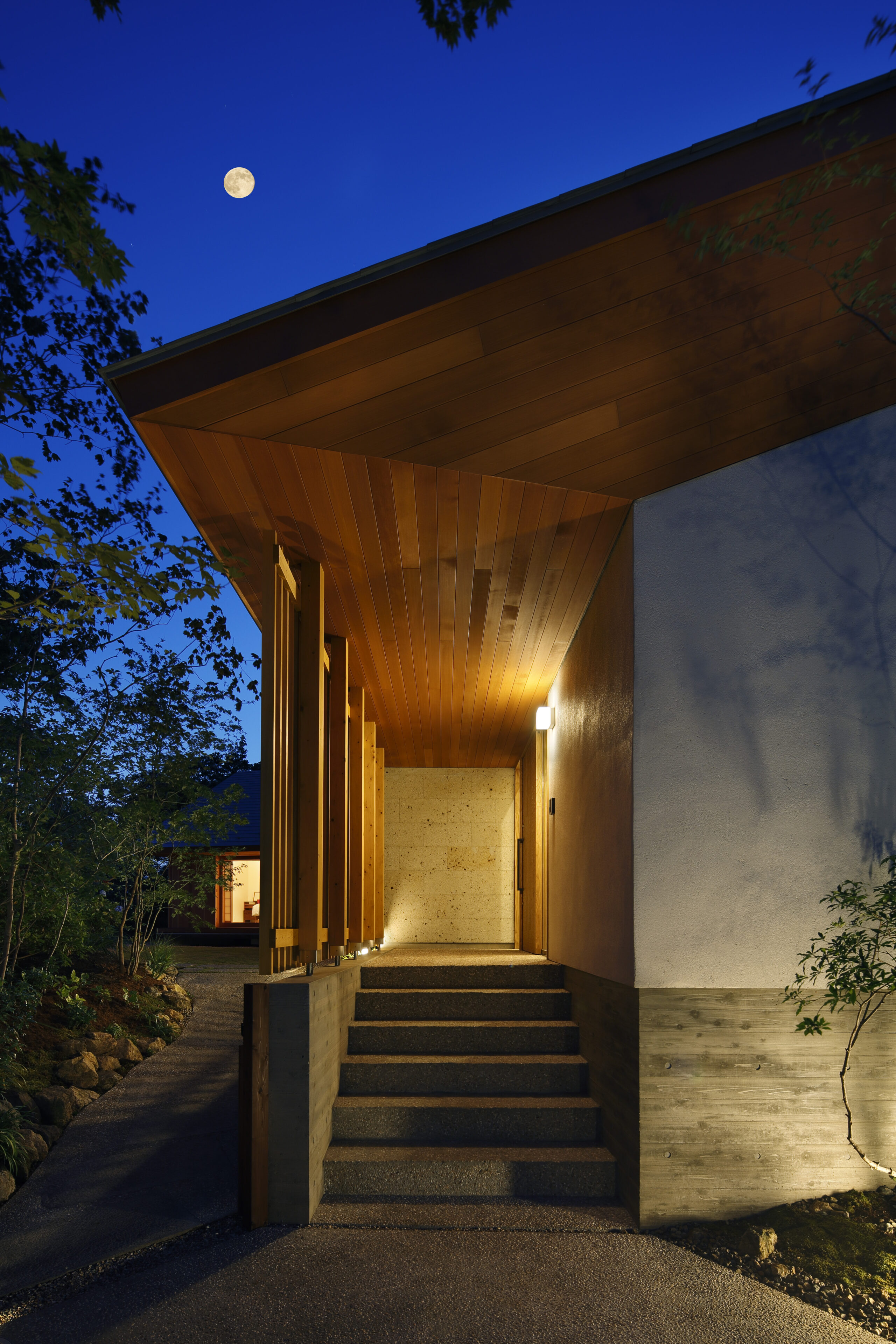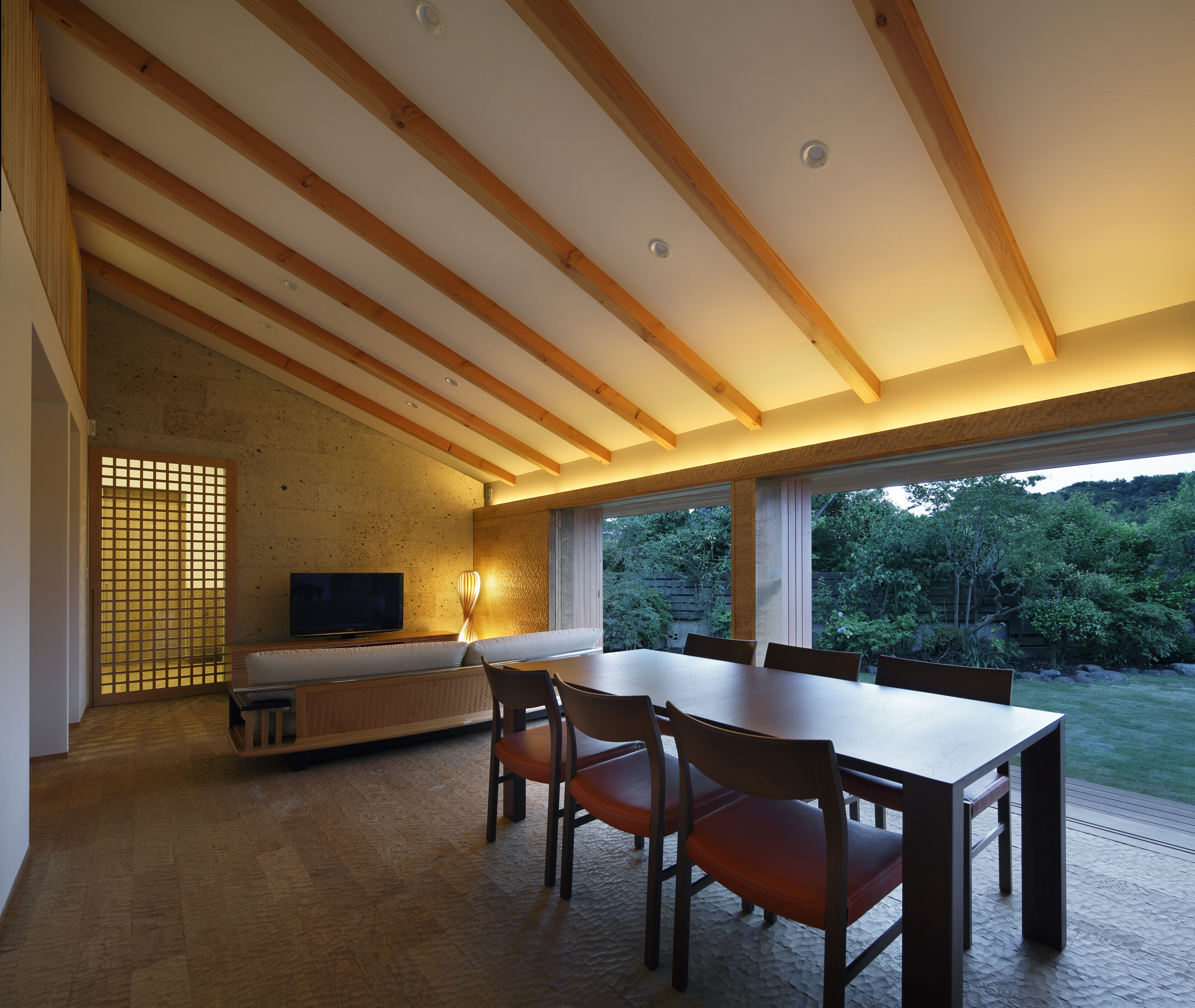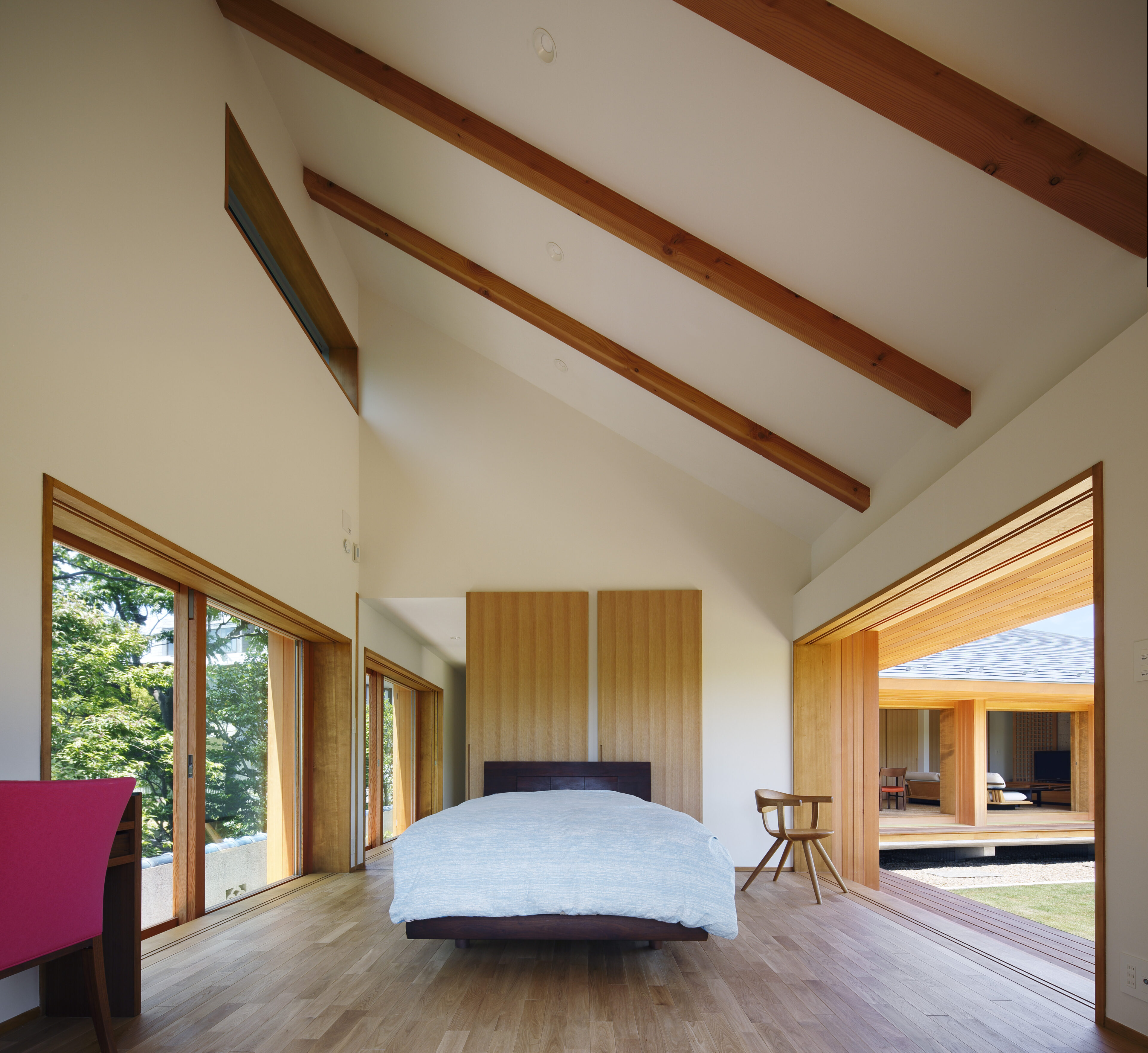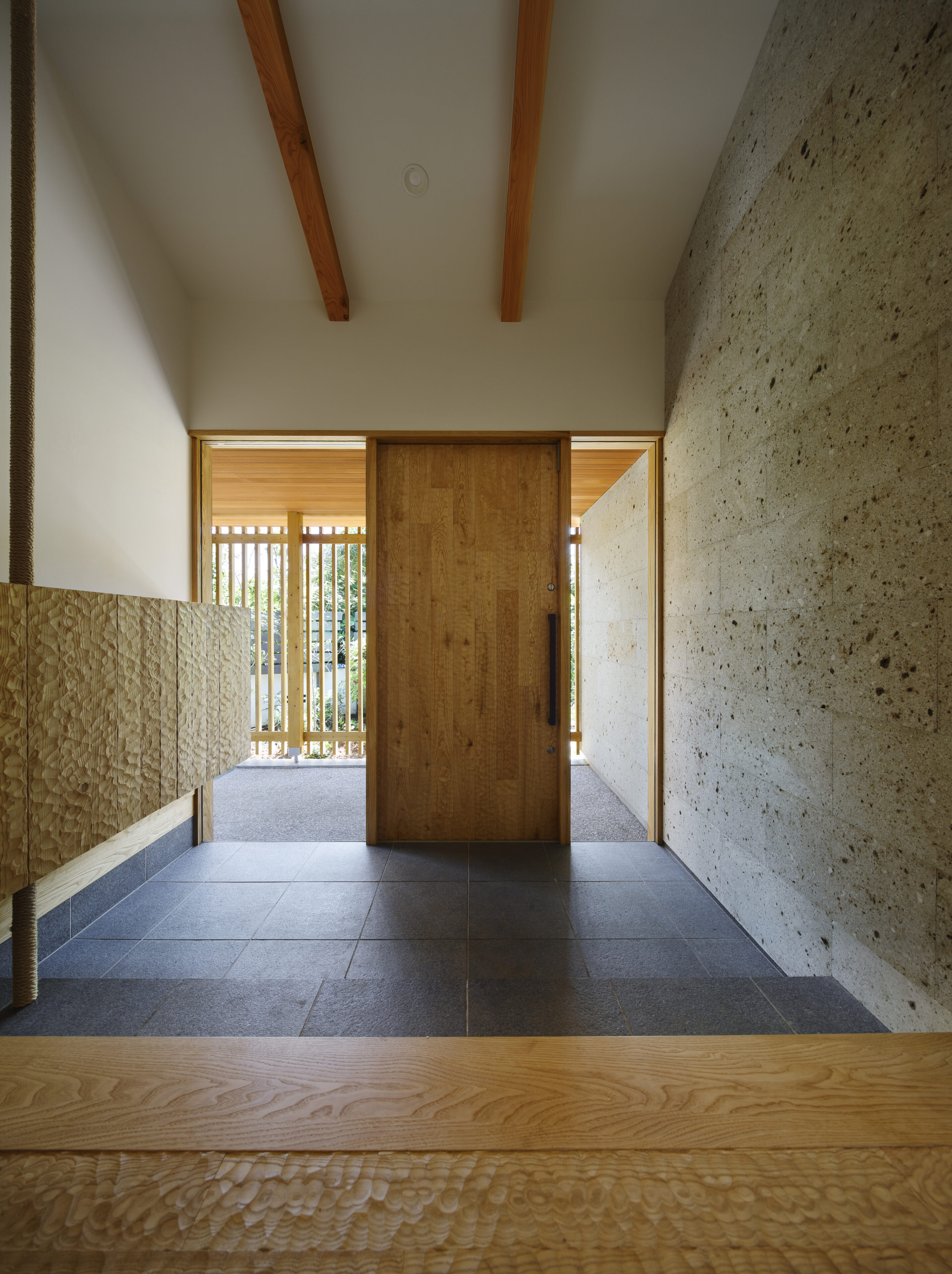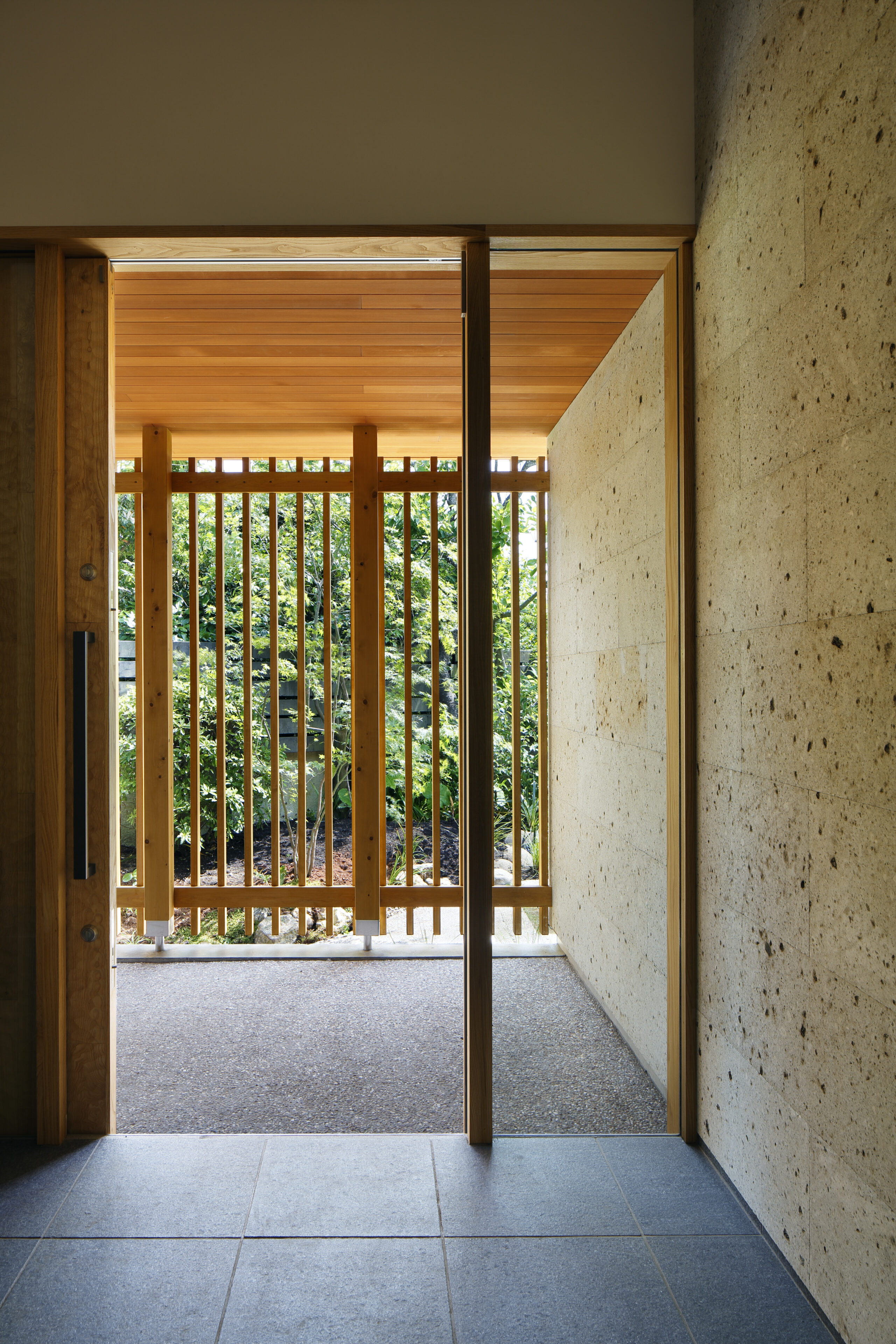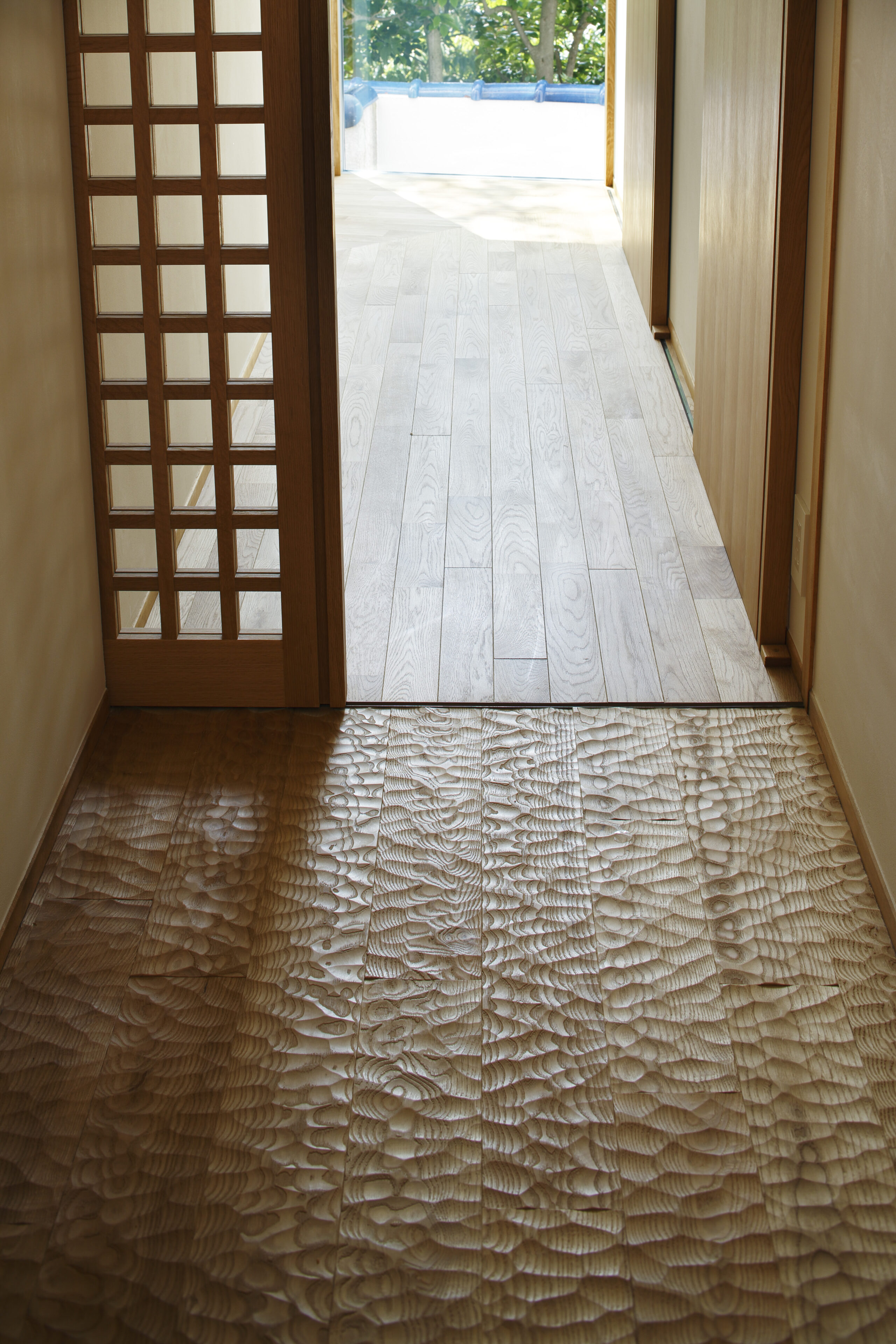 室内の造作は、栗材手斧仕上げを随所に施し、壁面に珪藻土の塗り壁・大谷石をアクセントとして採用した。珪藻土のゆず肌は手斧仕上げの材との馴染みが良く、大谷石の触りとも相性が良い。細かな凹凸がもたらす陰影は、光の具合によって表情を変え奥深さを演出する。また調湿・耐火性能にも優れたこれらの素材は、室内環境を整えることに一役買っている。
庭に開かれる開口部は、目前の緑を十分に堪能できるよう、窓を壁の小口に収納させ全面開放を可能とした。
Chestnut hatchet finish is used throughout the interior, and diatom earth and Oya stone are used as accents on the walls. The yuzu skin of the diatomaceous earth blends well with the hatchet-finished wood, and goes well with the touch of the Oya stone. The shadows created by the fine unevenness of the stone change their expression depending on the light conditions, creating a sense of depth. These materials, which are excellent in humidity control and fire resistance, also play a role in regulating the indoor environment.
The opening to the garden is fully open, with the windows tucked into the small openings of the walls so that the greenery can be fully appreciated.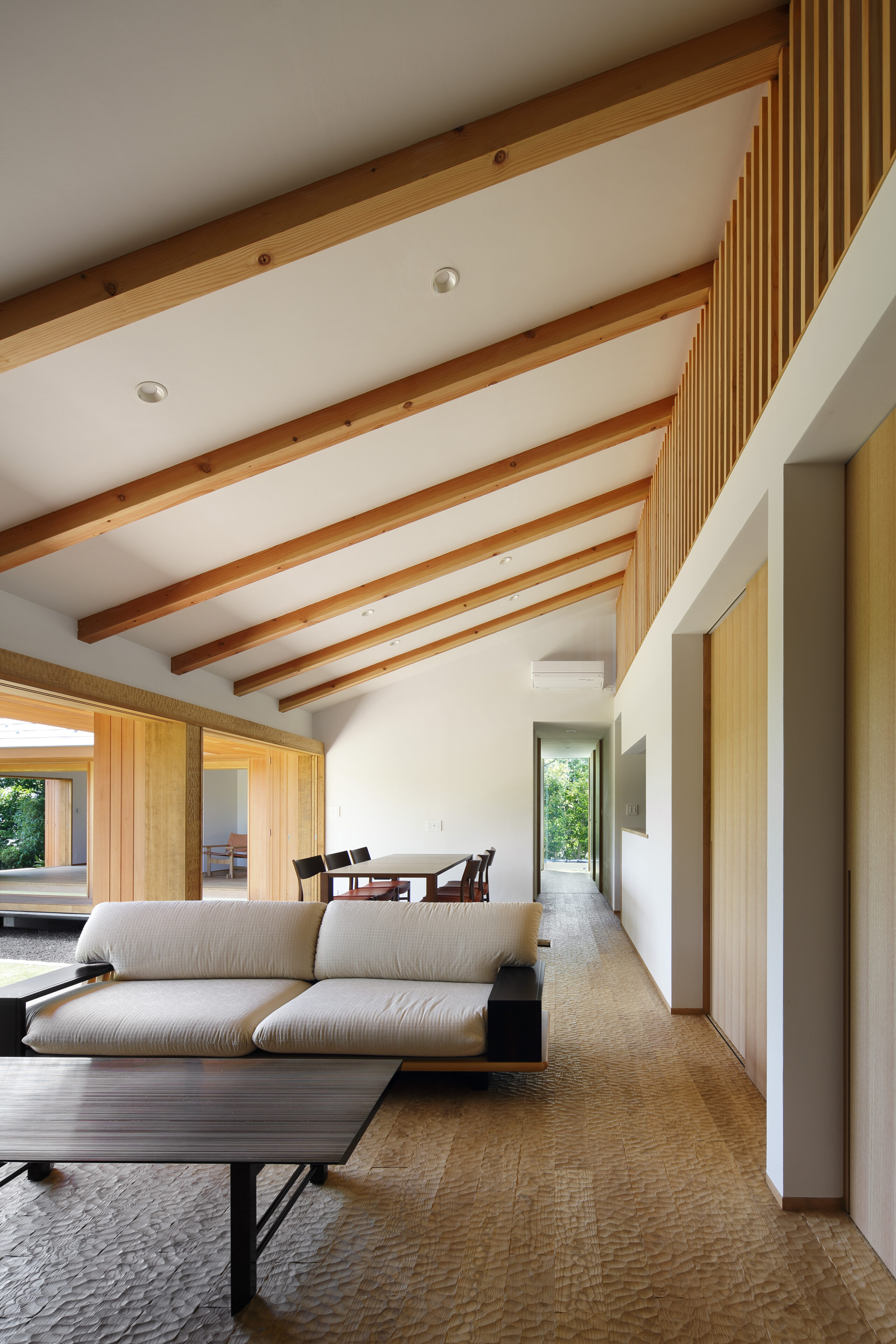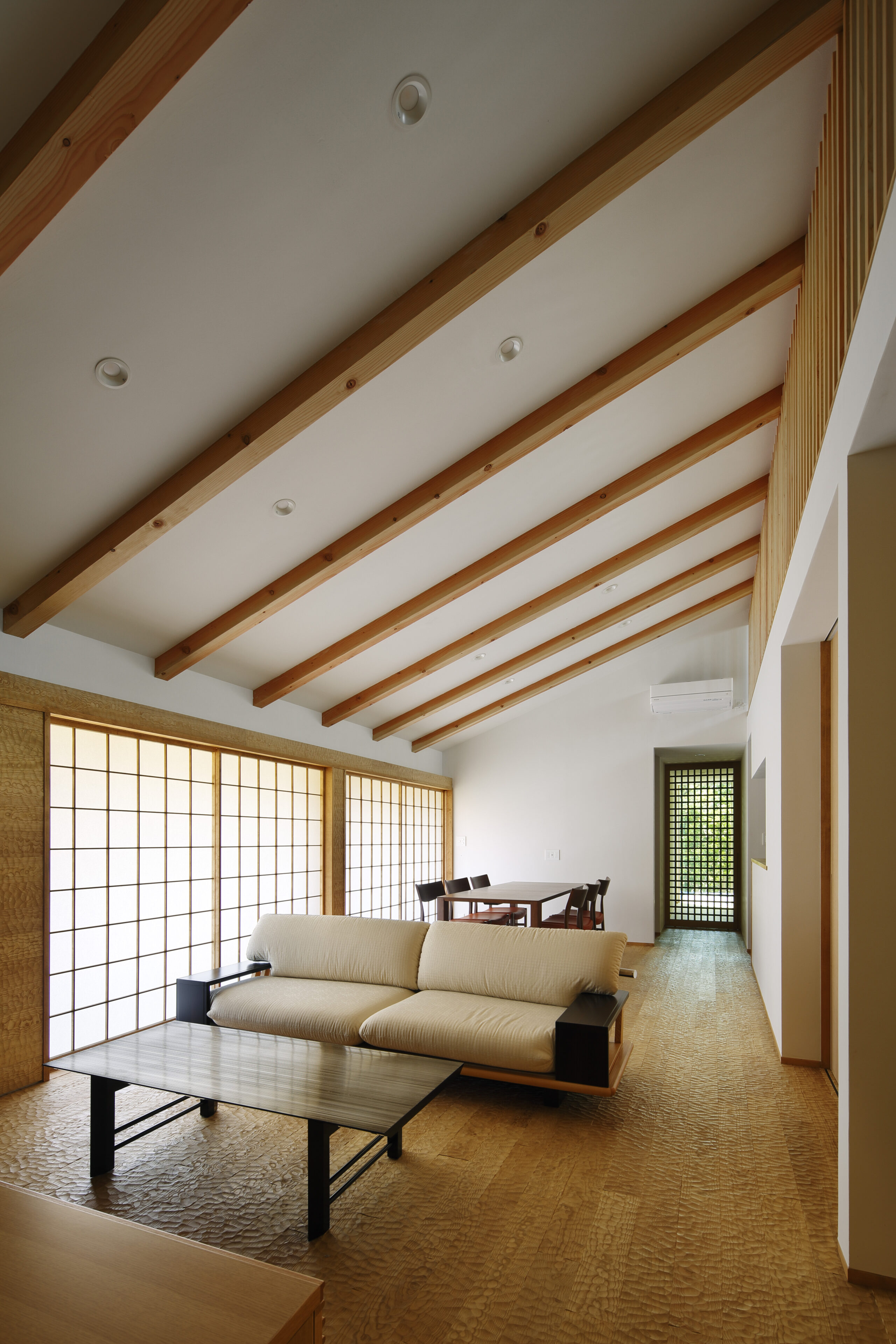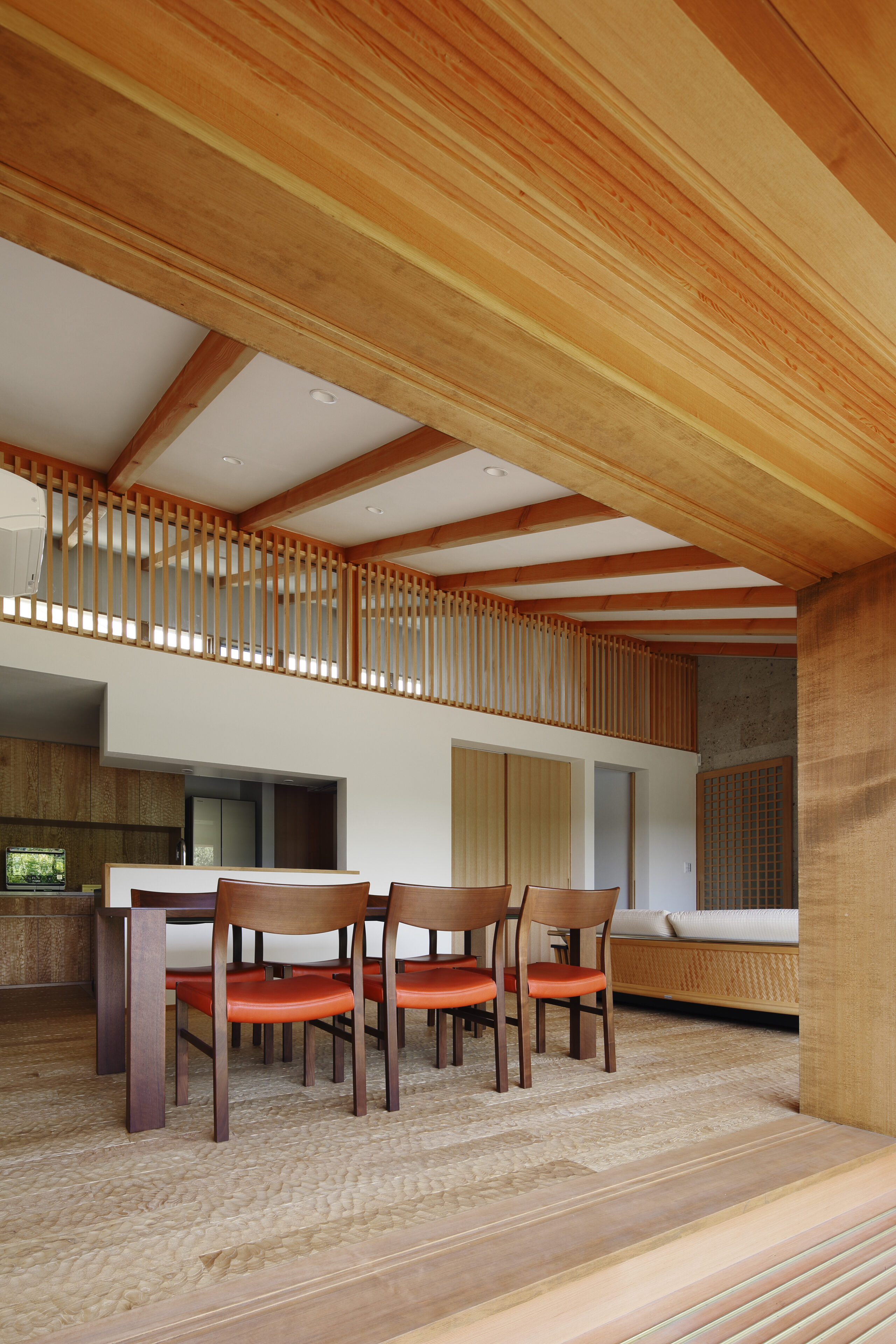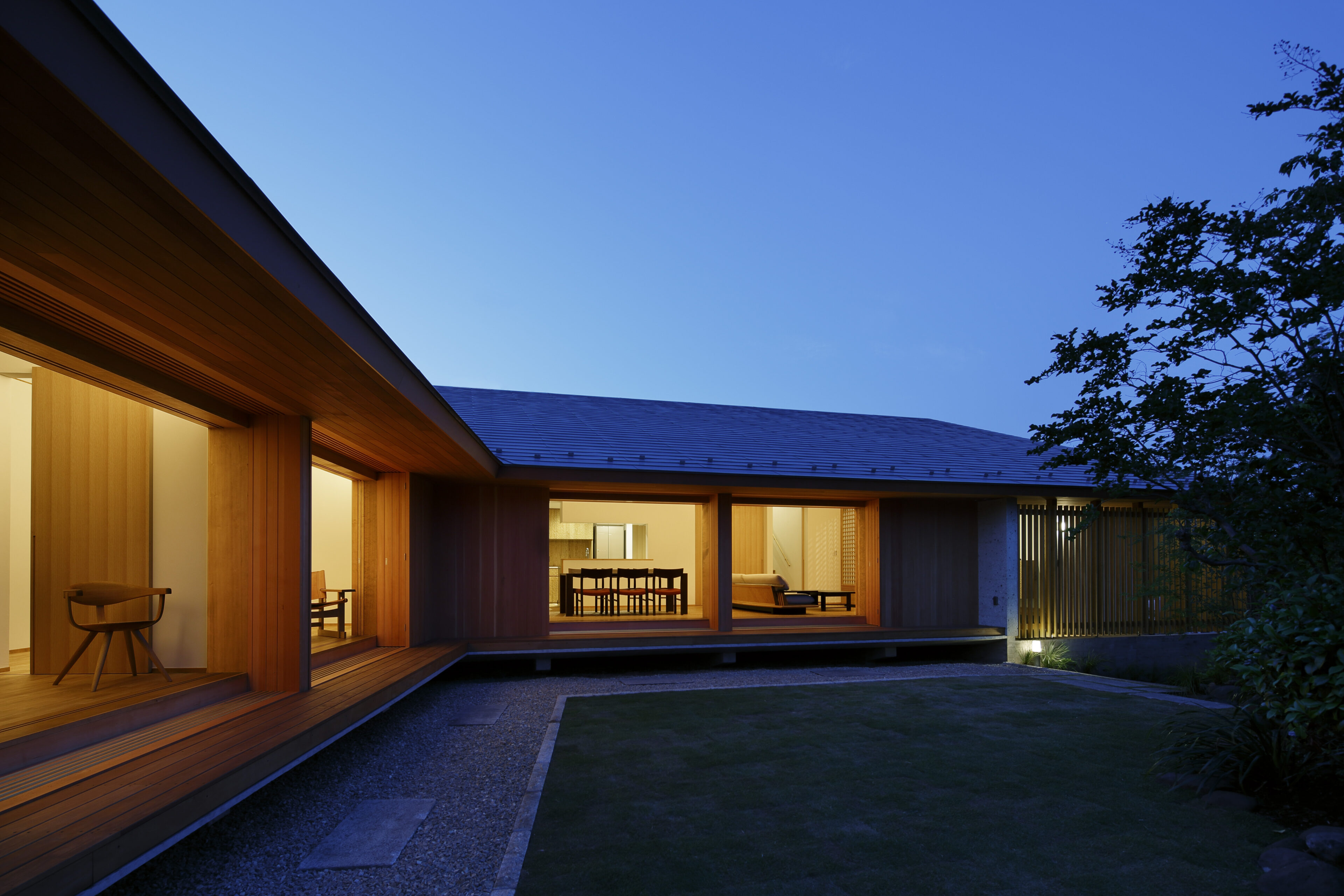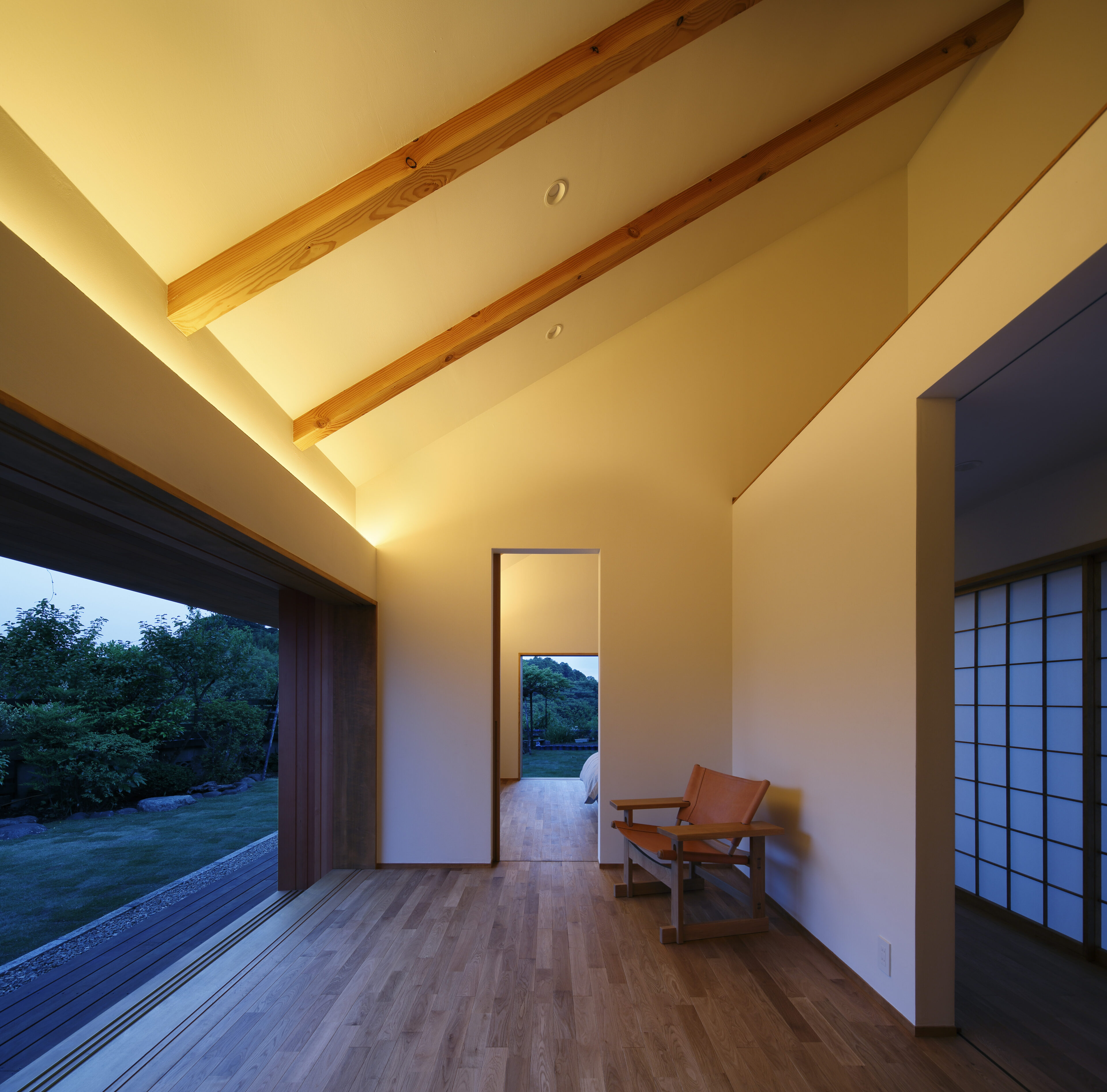 敷地の恩恵を生かし、歴史深い鎌倉の地に佇む住宅。計算された美しい質朴感と現代的機能の融合。すなわちこの住宅に表現される「過不足のない主張」は、「和魂洋才」の概念に基くものである。
Taking advantage of the site's bounty, the house is located in Kamakura, a city with a rich history. It is a fusion of calculated and beautiful simplicity and modern functionality. In other words, the "assertion without excess or deficiency" expressed in this residence is based on the concept of "Japanese spirit with Western sensibilities.
DATA
竣工

2016.06

建築地

神奈川県鎌倉市

用途

専用住宅

構造

木造平屋建

面積

183.41㎡

撮影

Nacasa & Partners
Completion

2016.06

Building site

Kamakura City, Kanagawa Prefecture

Principal use

private residence

Structure

Single-storied wooden house

Floor area

183.41㎡

Photo

Nacasa & Partners