WORKS
風趣良光の家
House of FU-SYU RYOUKOU
岡山県岡山市内に建つ2世帯住宅である。
敷地の周囲では農作物が栽培され、のどかな田園風景が広がる。隣接する建物がなく、敷地にはほとんど影が落ちず常に光があたる良光な環境であった。田園風景の大らかさを壊すことなく、主張し過ぎることなく趣を感じさせる建物を目指した。
This two-family house is located in Okayama City, Okayama Prefecture.
The site is surrounded by a peaceful rural landscape where crops are grown. There are no adjacent buildings, and the site is always well-lit with almost no shadows. We aimed to create a building that would not destroy the grandeur of the rural landscape, and that would give a sense of taste without being overly assertive.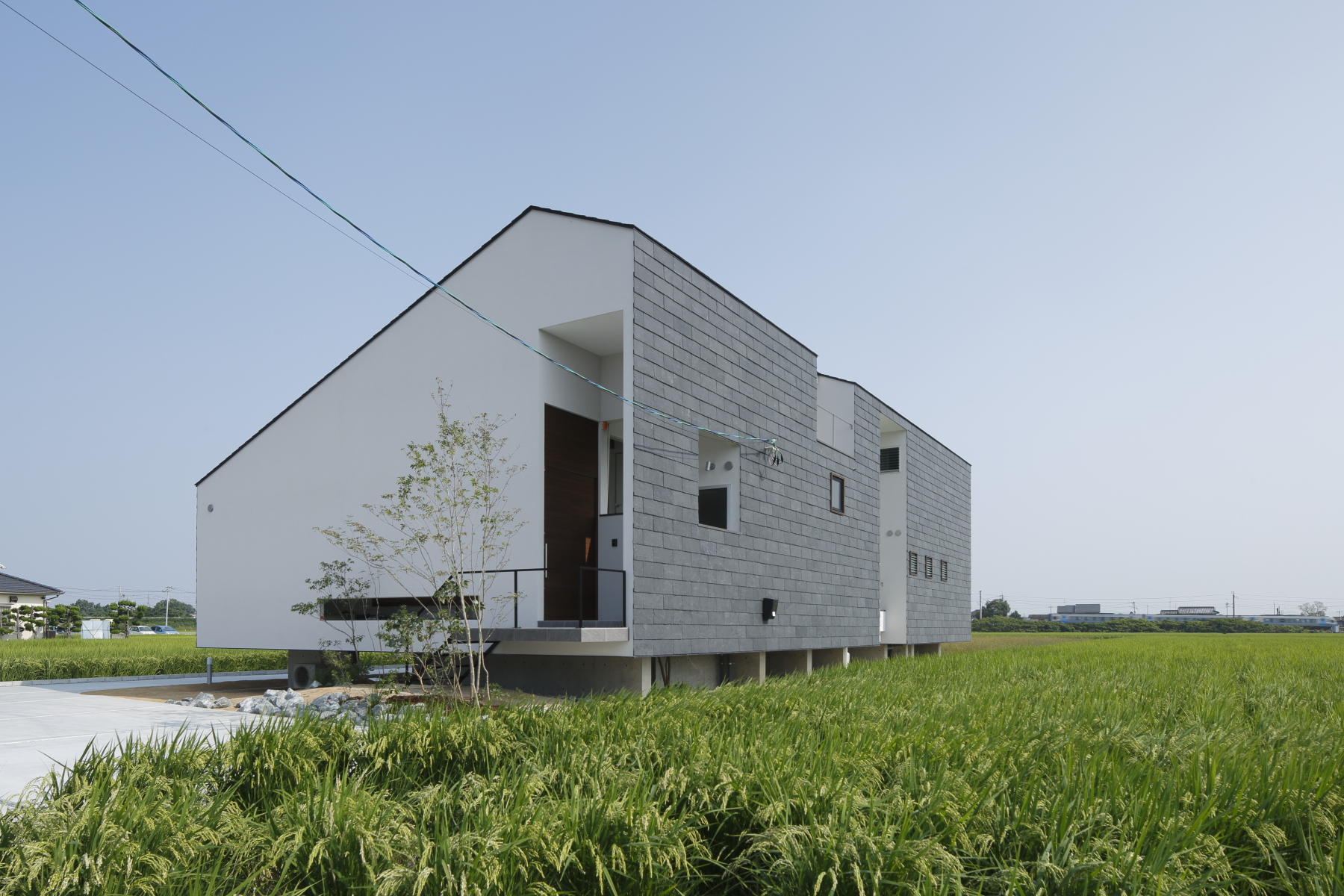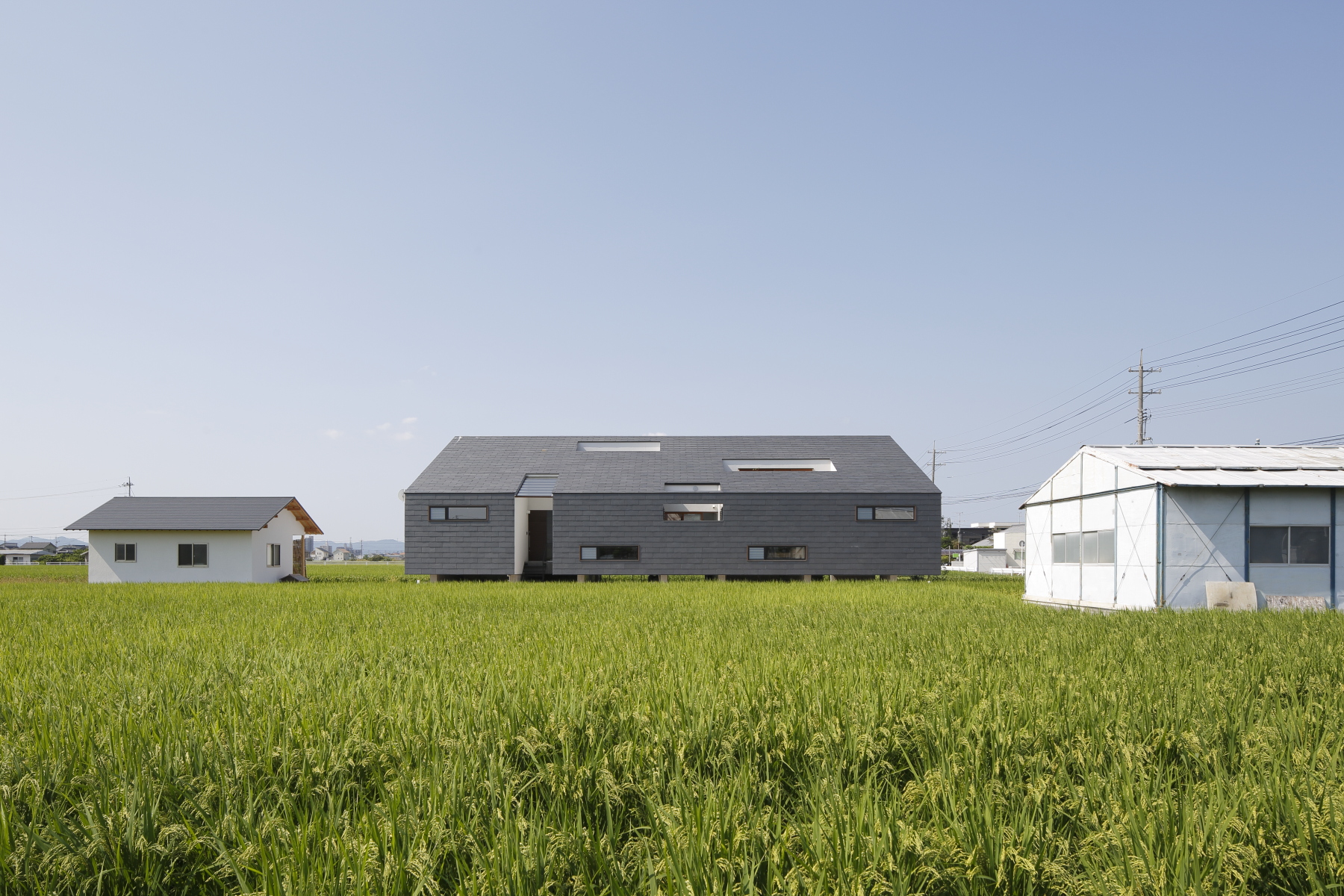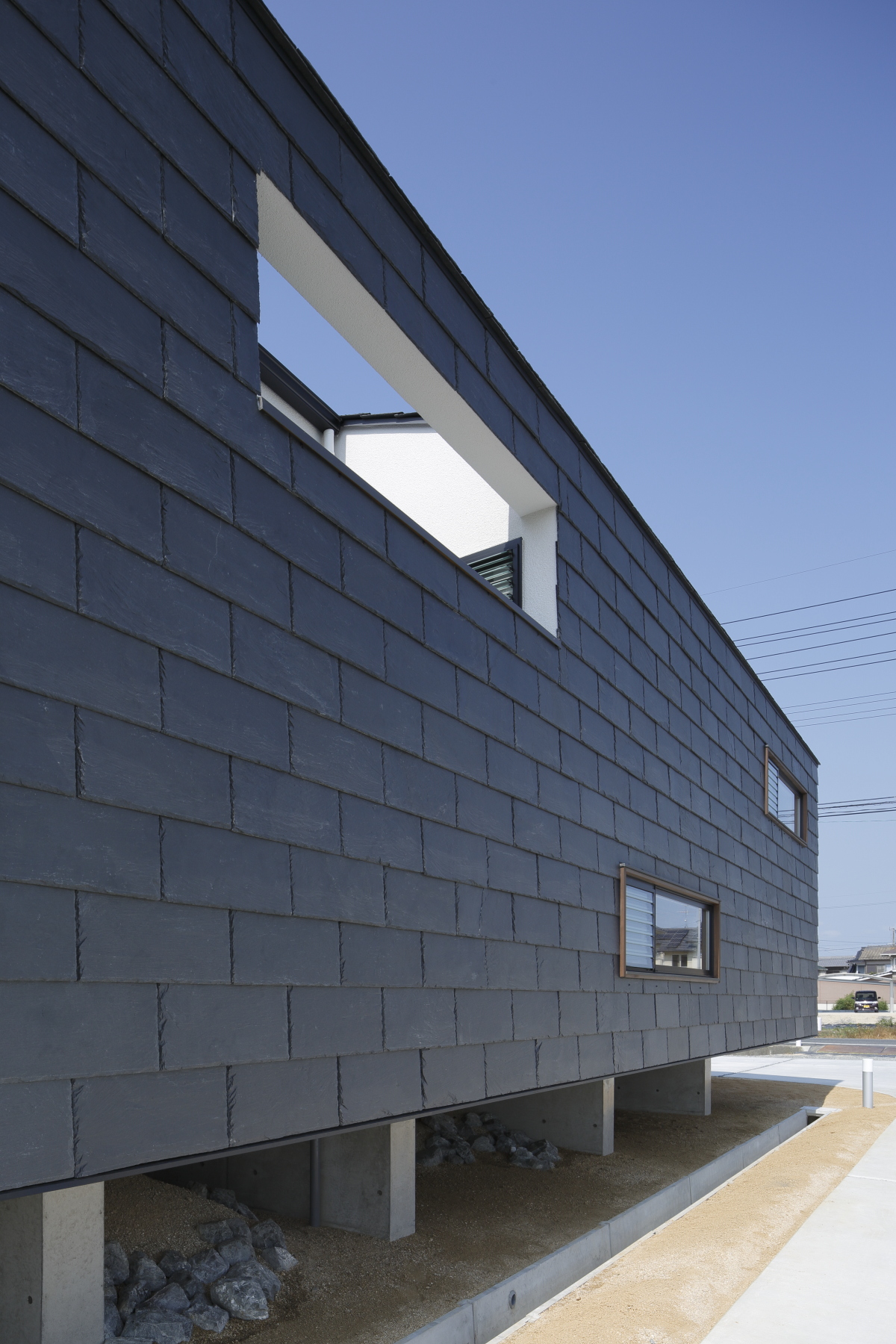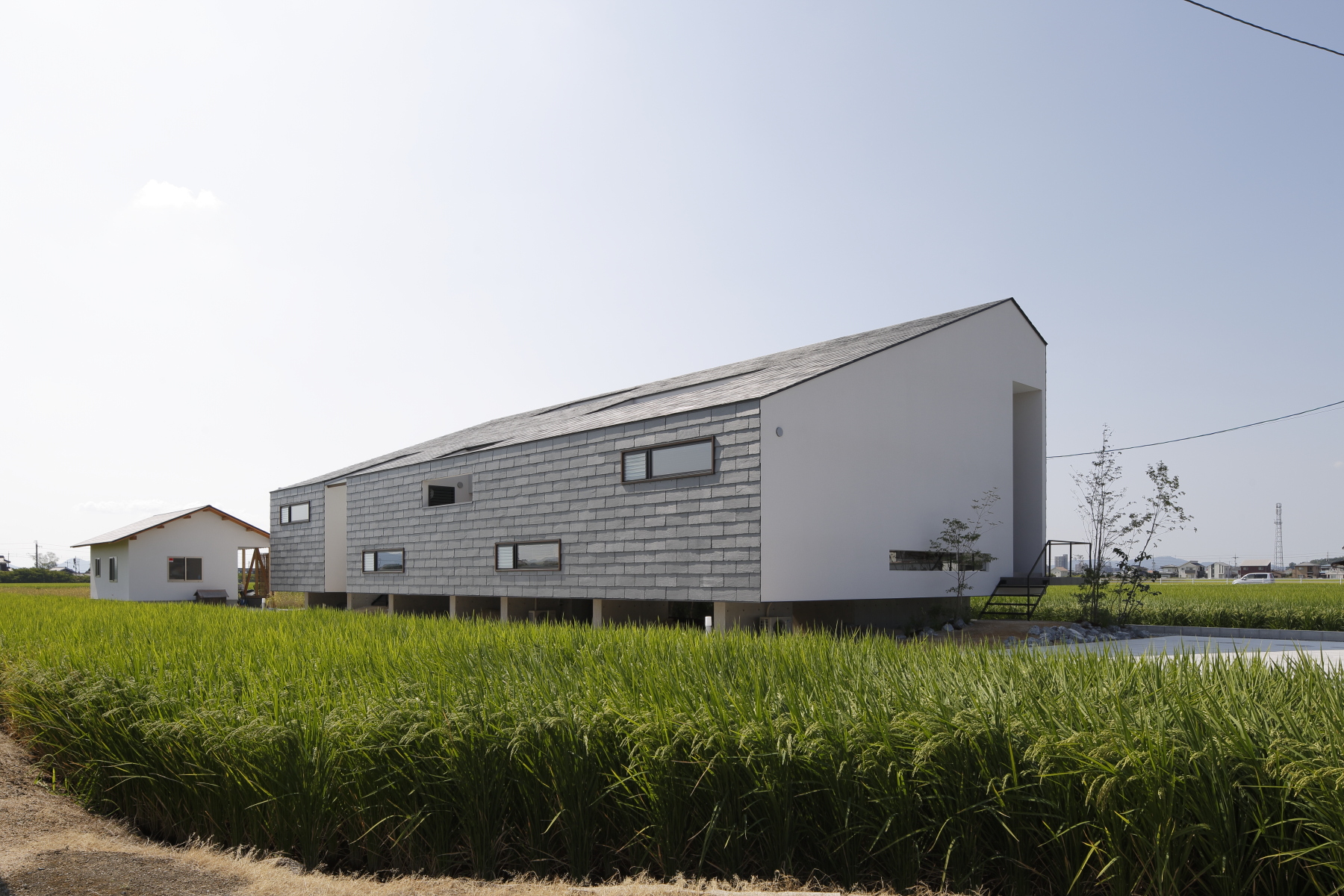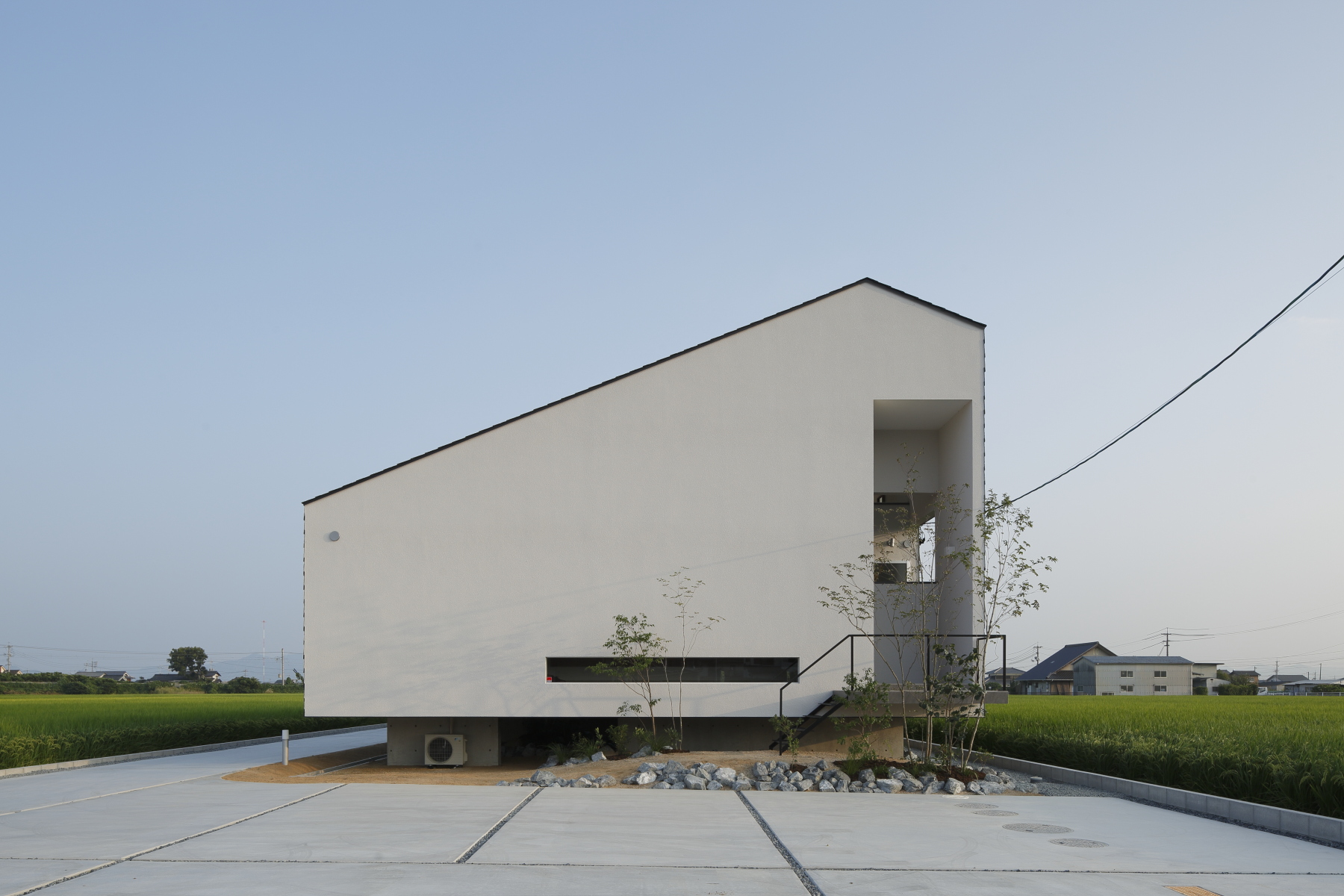 建物は、地盤面より立ち上ったコンクリートで1m浮かせている。この地で数年前に起こった豪雨への配慮を考えてのことである。建物を浮かせることで万が一の水害からの回避と通風、湿気対策にも貢献する。さらに、屋内に取り込まれる自然採光が、風の通り道と相まって快適で健康的な空間を作り出している。
The building is raised 1 m above the ground with concrete. This was done in consideration of the heavy rainfall that occurred here a few years ago. By floating the building, the building is protected from flood damage and also contributes to ventilation and humidity control. Furthermore, the natural lighting that is brought indoors, combined with the breezeway, creates a comfortable and healthy space.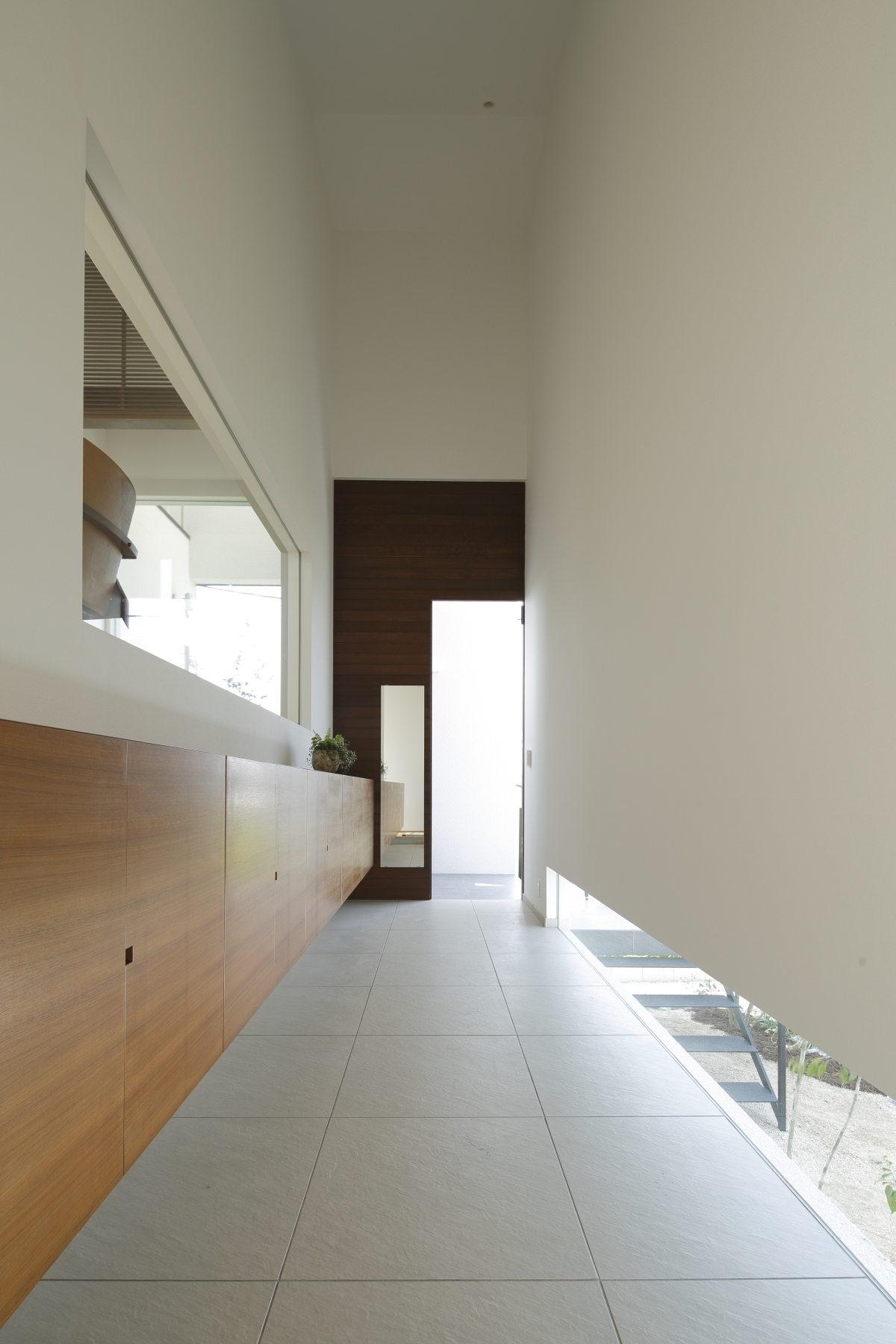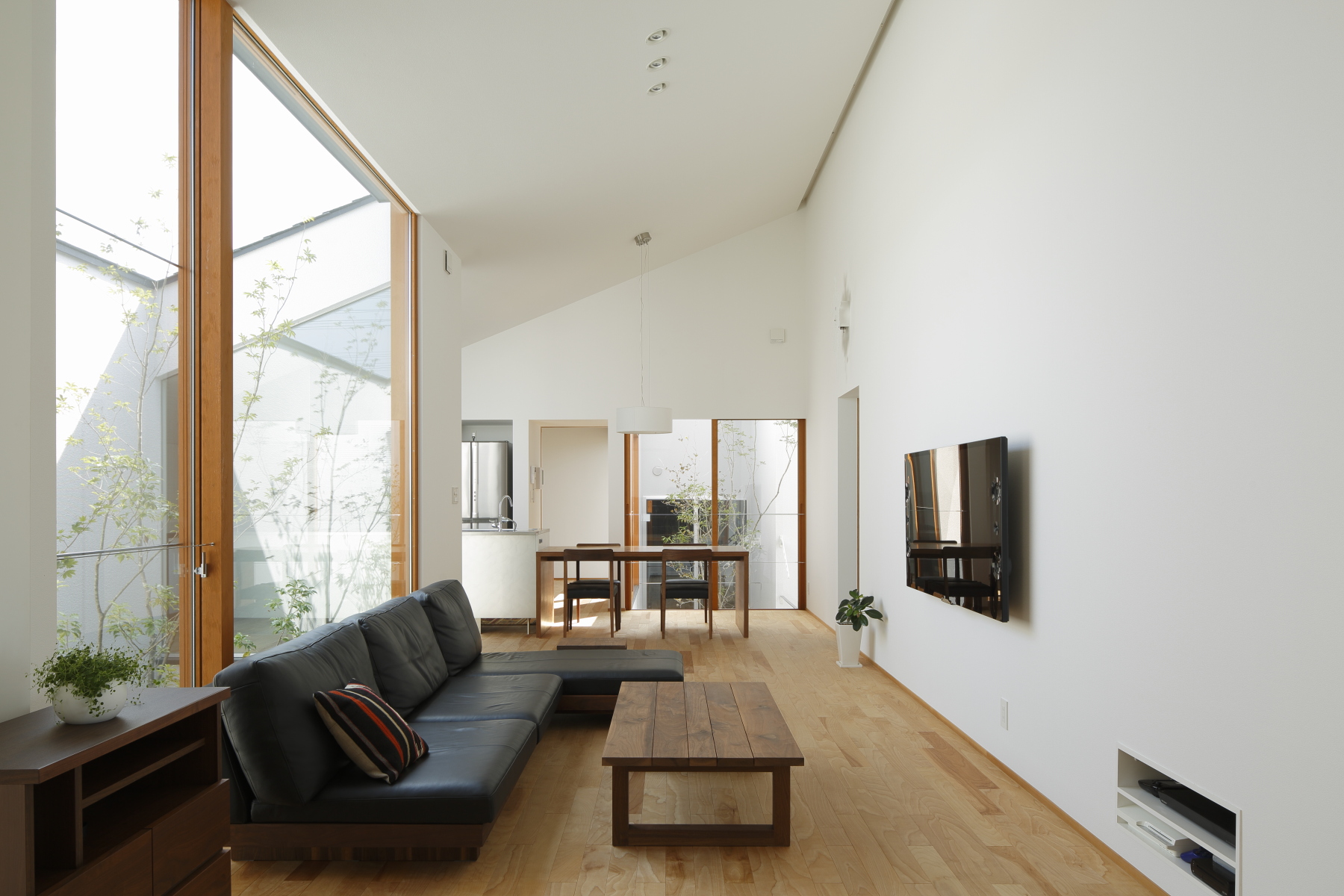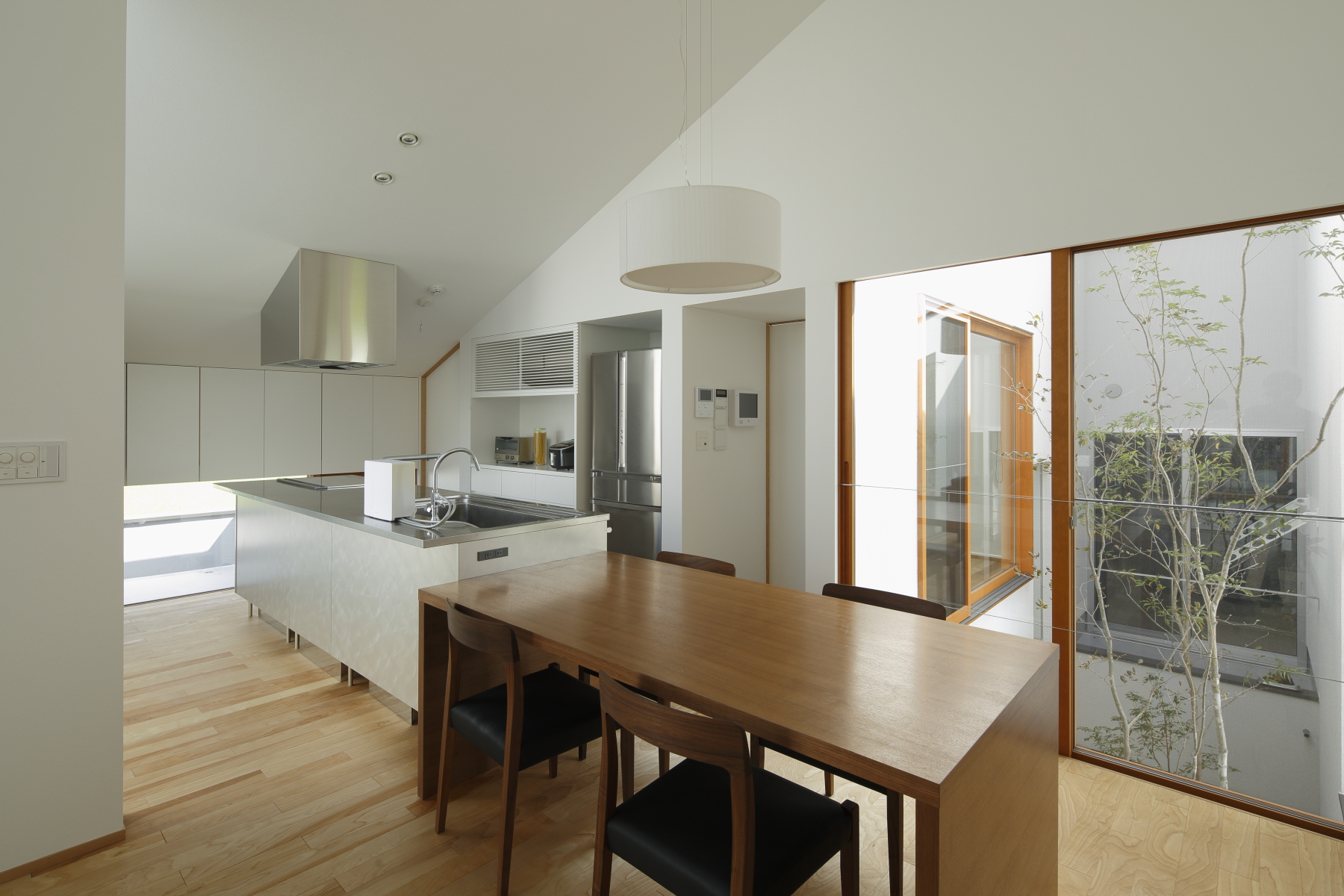 親世帯と子世帯は、生活時間の違いを考慮し玄関を2つに分けた。北側の道路面に子世帯、東面に親世帯の玄関を配置し、2世帯の境界は共用の客間や中庭によりゆるやかに分節され、ほどよい家族の距離感を生みだす。
アプローチにはどうしても階段が必要になる。そこで、上りやすいよう盛土でマウンドをつくり階段の段数を極力減らすように考えた。
このマウンドは建物の下部にも配し植栽によるグランドカバーを施した。田園から敷地への連続性を植栽に委ねる事により、周辺風景との融合が適えられる。
The parent and child households have two separate entrances, taking into account the difference in their living hours. The entrance of the child household is located on the north side of the street, and that of the parent household on the east side. The boundary between the two households is gently divided by a shared guest room and a courtyard, creating a moderate sense of distance between the families.
Stairs are inevitably necessary for the approach. Therefore, a mound was created with embankment to reduce the number of steps as much as possible.
This mound was also placed at the bottom of the building and planted to cover the ground. By entrusting the continuity from the countryside to the site to the plantings, it is possible to blend in with the surrounding landscape.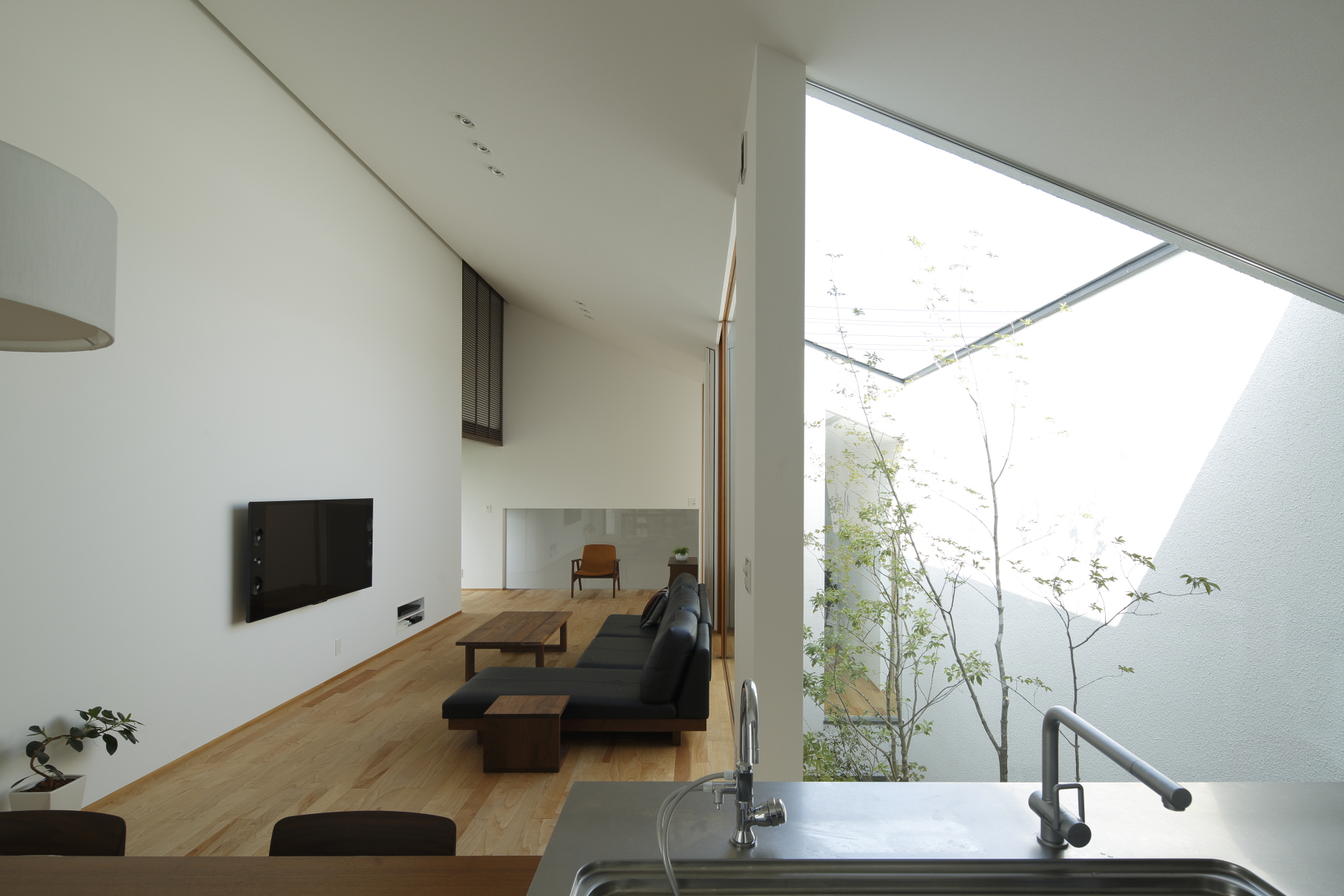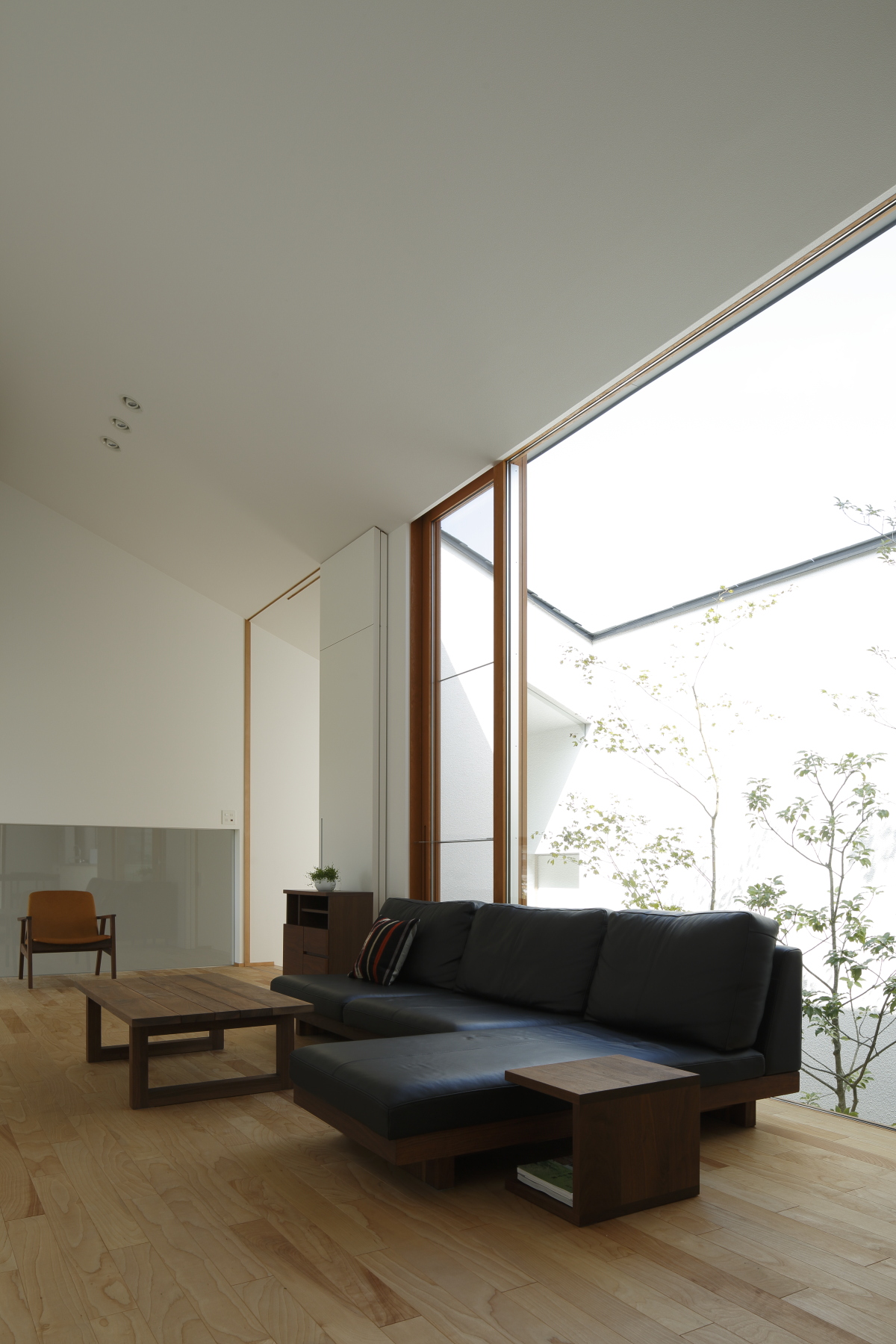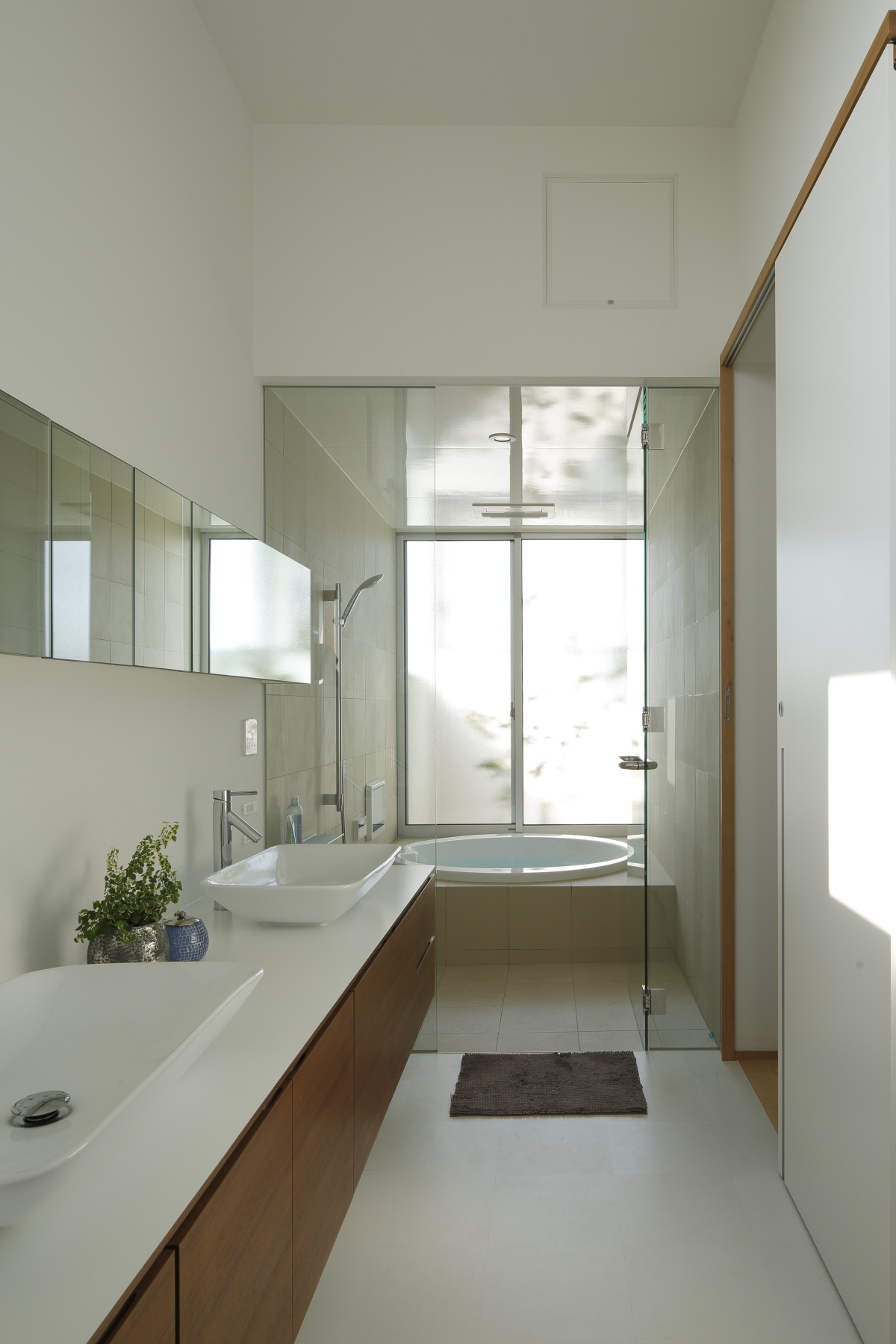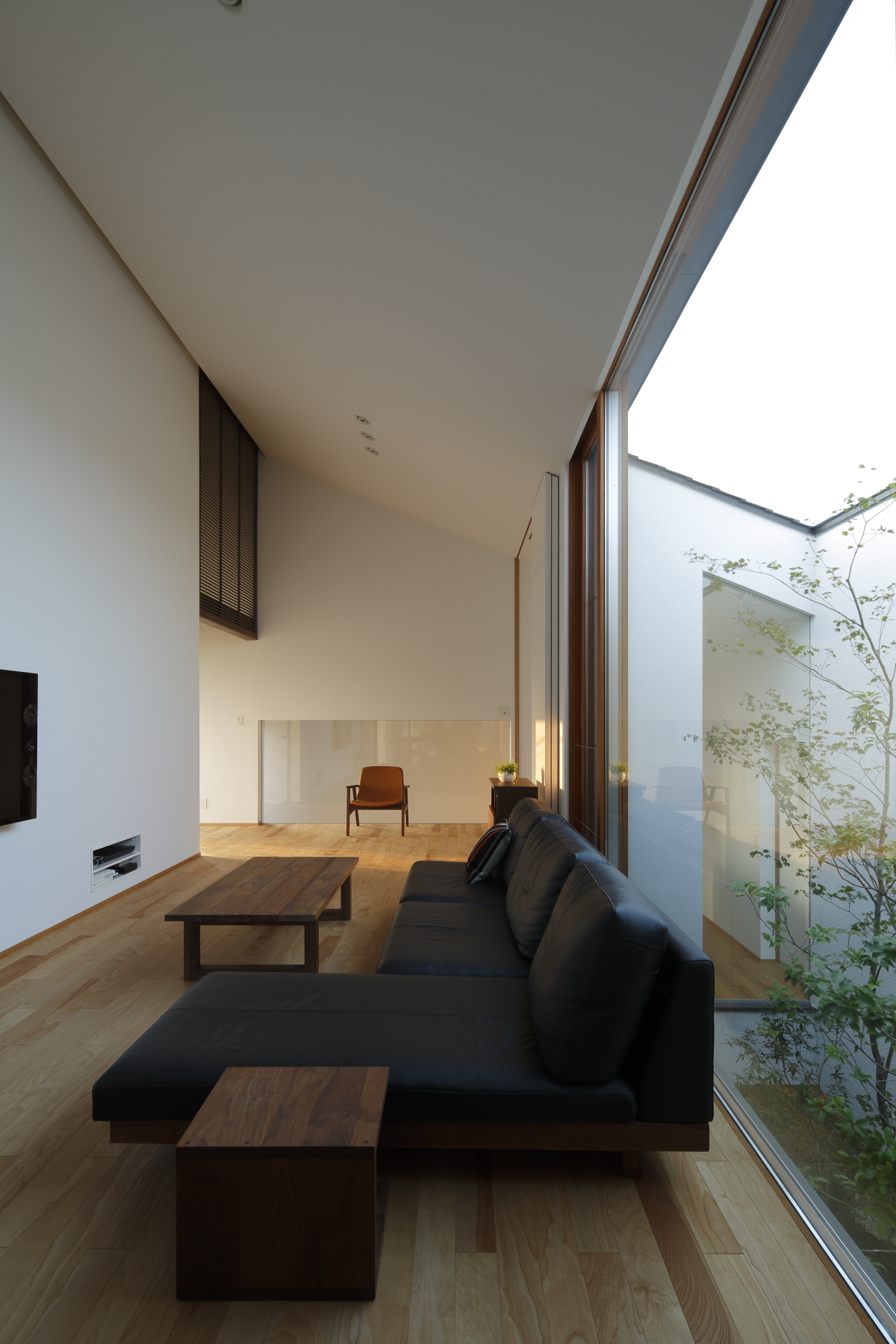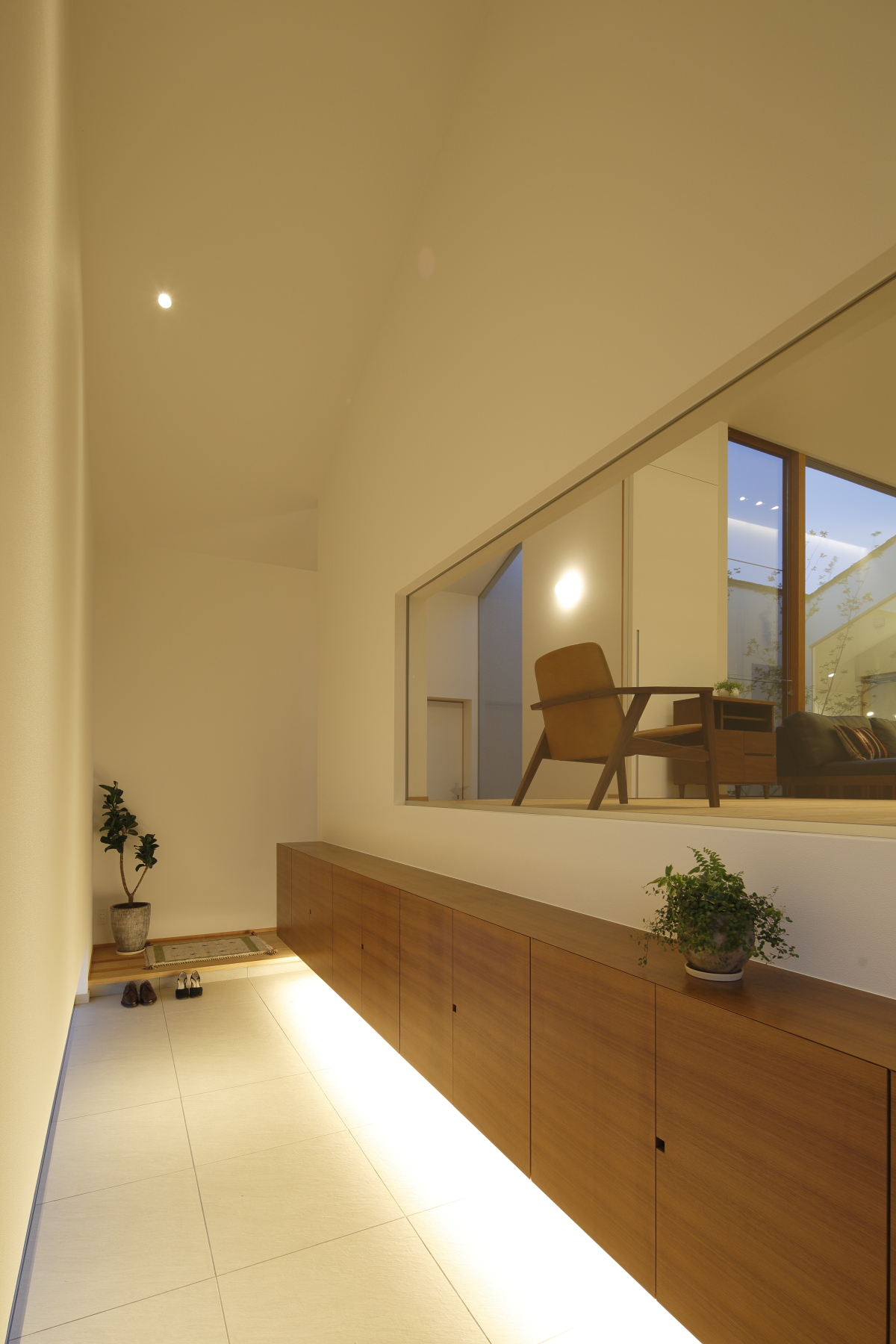 子世帯は段差により各室が仕切られる。玄関と同じ高さに寝室、子供室、水回りを配し、LDKが1.2m高くなっている。この段差により天井高を確保することと、開口を多くとることができた。開口からは中庭を通して、自然光・風・緑が効果的に室内へと導かれる。
In the children's house, each room is separated by a step. The bedrooms, children's room, and water room are located at the same level as the entrance, and the LDK is 1.2m higher. This difference in level allows the ceiling height to be secured, and also allows for a large number of openings. Through the openings, natural light, wind, and greenery are effectively guided into the rooms through the courtyard.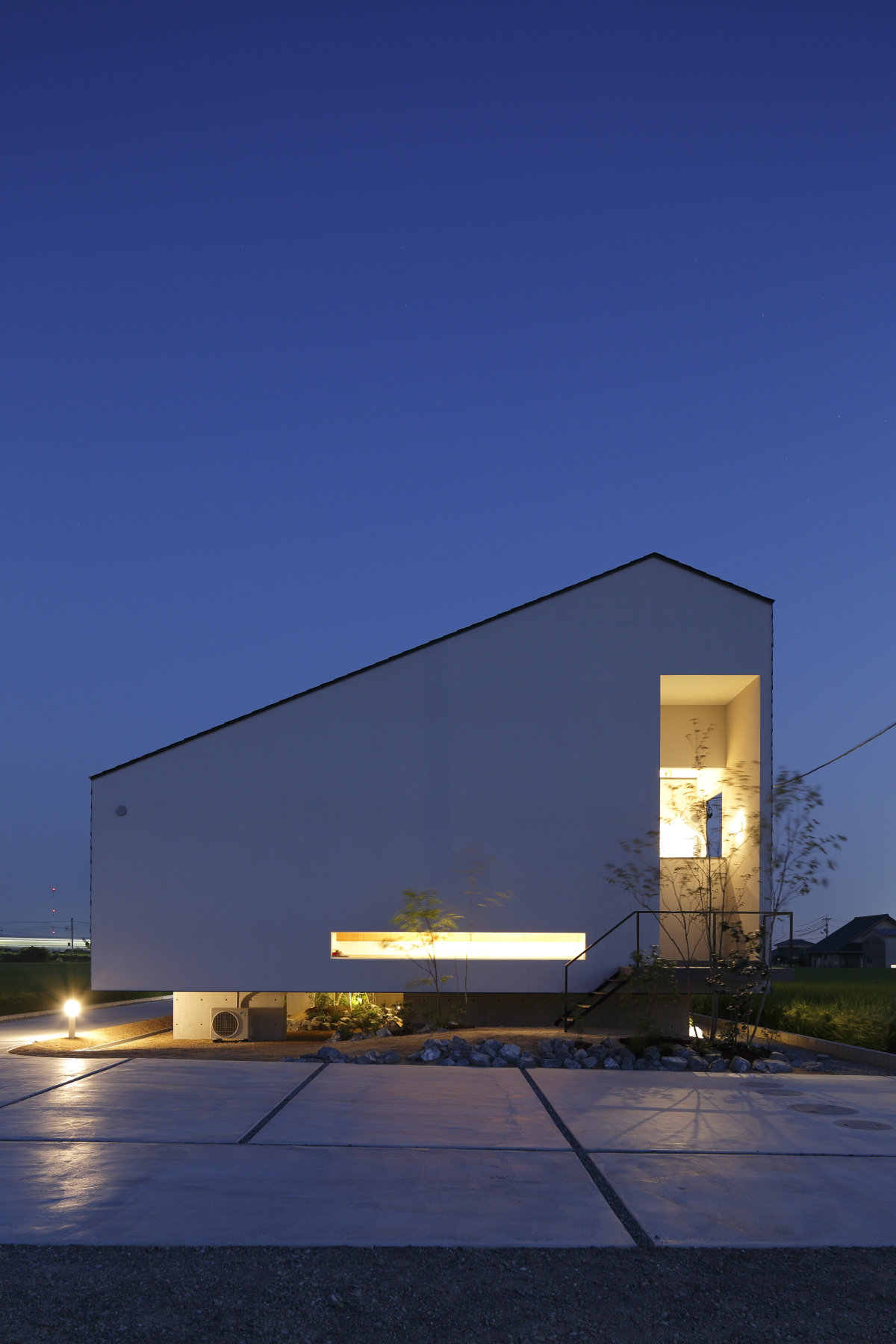 親世帯では逆に段差をなくし、できるだけ昇降を少なくするように考えた。
段差によって生まれたいろいろな場所は、プライバシーを保ちながら中庭を介してつながり、ほど良く家族の気配を感じることができる。
建物は風や光を纏い風景に寄り添う。それによって、ここでしか得ることのできない豊かさを享受できるものと考える。
In the parent's house, steps were eliminated to reduce the number of steps to be climbed.
The various locations created by the steps are connected through the courtyard while maintaining privacy, allowing the family to feel a good sense of presence.
The building is clothed in wind and light and nestles in the landscape. This allows the residents to enjoy the richness that can only be found here.
DATA
竣工

2014.08

建築地

岡山県岡山市

用途

専用住宅

構造

木造2階建

撮影

Nacasa & Partners
Completion

2014.08

Building site

Okayama City, Okayama

Principal use

private residence

Structure

Wooden 2 stories

Photo

Nacasa & Partners