WORKS
近未来餃子H
Near-future dumpling H
渋谷肉横丁に新規出店した餃子店の空間プロデュース。
渋谷肉横丁とは、渋谷センター街近くにある肉をテーマにした小店舗が連なる国内最大級の横丁。2010年のオープン以来、渋谷の若者が集まるスポットとして注目され、年間約50万人もの人が訪れる場所となっている。
実業家ホリエモン氏とYouTuberのヒカル氏が共同で餃子店を出店するとのことで、空間プロデューサーとして参画した。
Space production for a new gyoza restaurant in Shibuya Meat Yokocho.
Shibuya Niku Yokocho is one of the largest meat-themed side streets in Japan, with a series of small stores near Shibuya Center Street. since its opening in 2010, it has attracted attention as a gathering place for young people in Shibuya, and is visited by about 500,000 people annually.
Businessman Holliemon and YouTuber Hikaru were invited to jointly open a gyoza (dumpling) restaurant, and we participated as spatial producers.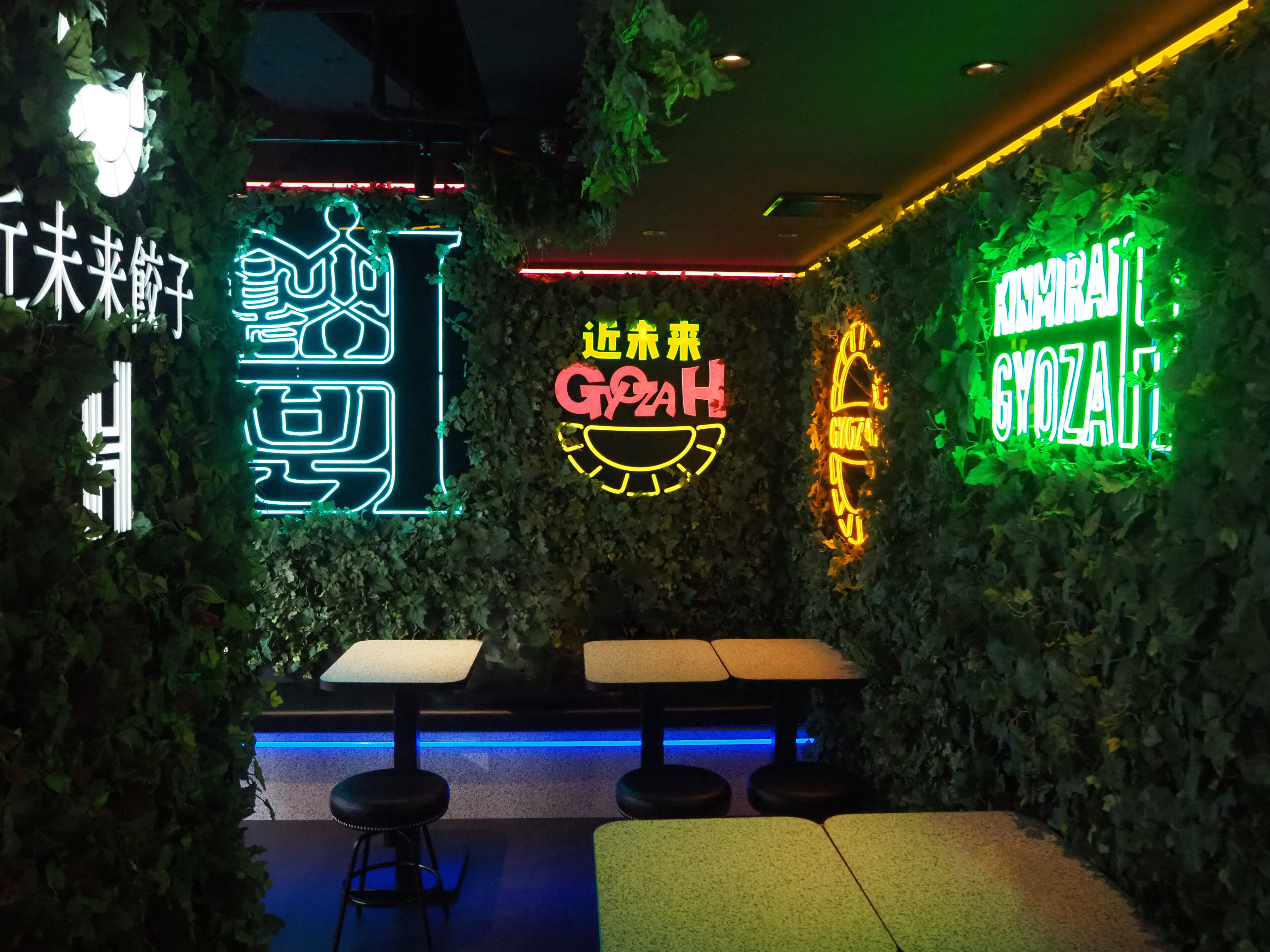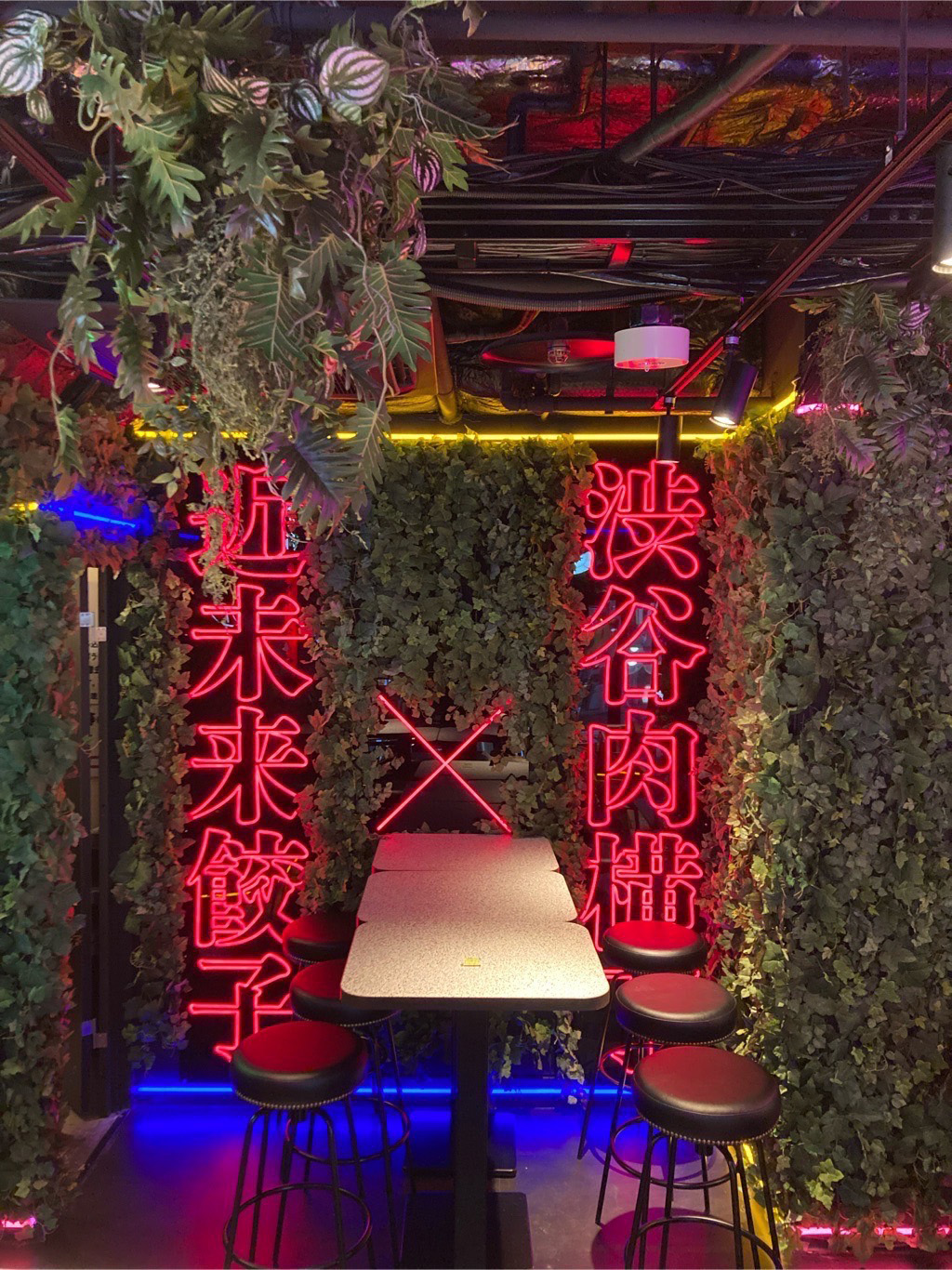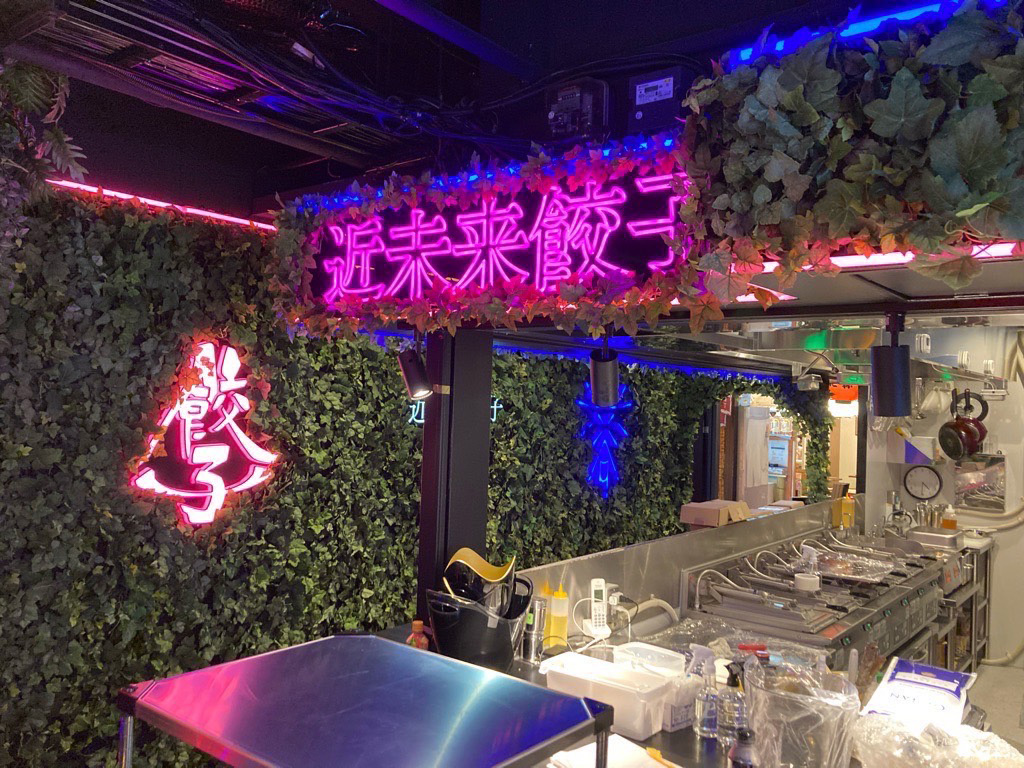 元の空間は古い雑居ビルの一角、周辺環境も昭和~平成~令和が入り交じり雑多感があふれる。ここに近未来感を演出するためにあえて日本の屋台ではなく韓国風の屋台設計からヒントを取り入れ、ネオン管とフェイクグリーンを駆使し最先端の餃子屋として楽しめる店内に仕上げた。この色とりどりのネオン管とフェイクグリーンは、インパクトを与えると同時に元の雑居ビル感を隠すことも目的としている。
The original space is a corner of an old multi-tenant building, and the surrounding environment is full of a sense of miscellaneousness with a mixture of Showa, Heisei, and 2024-era Japanese influences. To create a futuristic atmosphere, we took a hint from Korean-style food stall design, rather than Japanese food stalls, and used neon tubes and fake greenery to create a cutting-edge gyoza restaurant that can be enjoyed. The colorful neon tubes and fake greenery are intended to create an impact and at the same time hide the original, crowded building.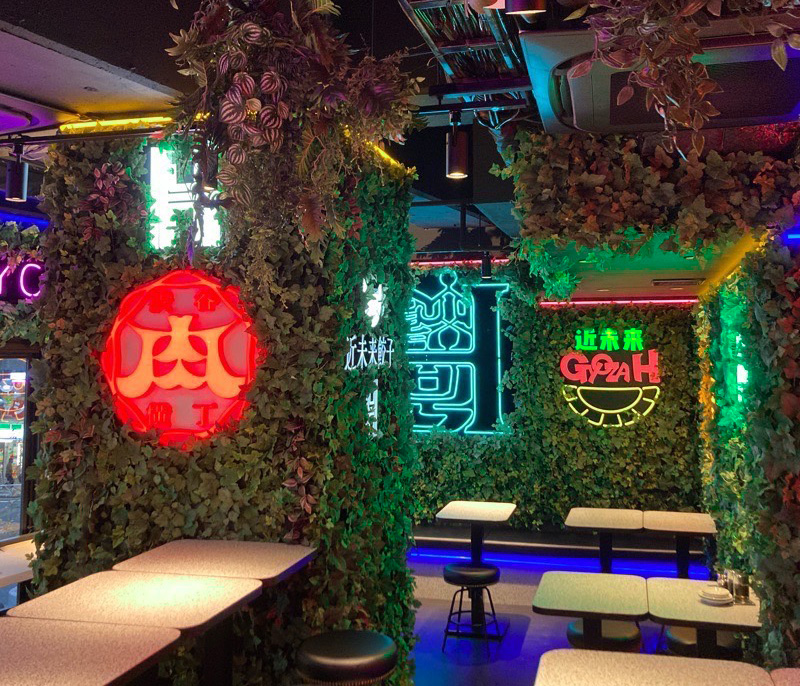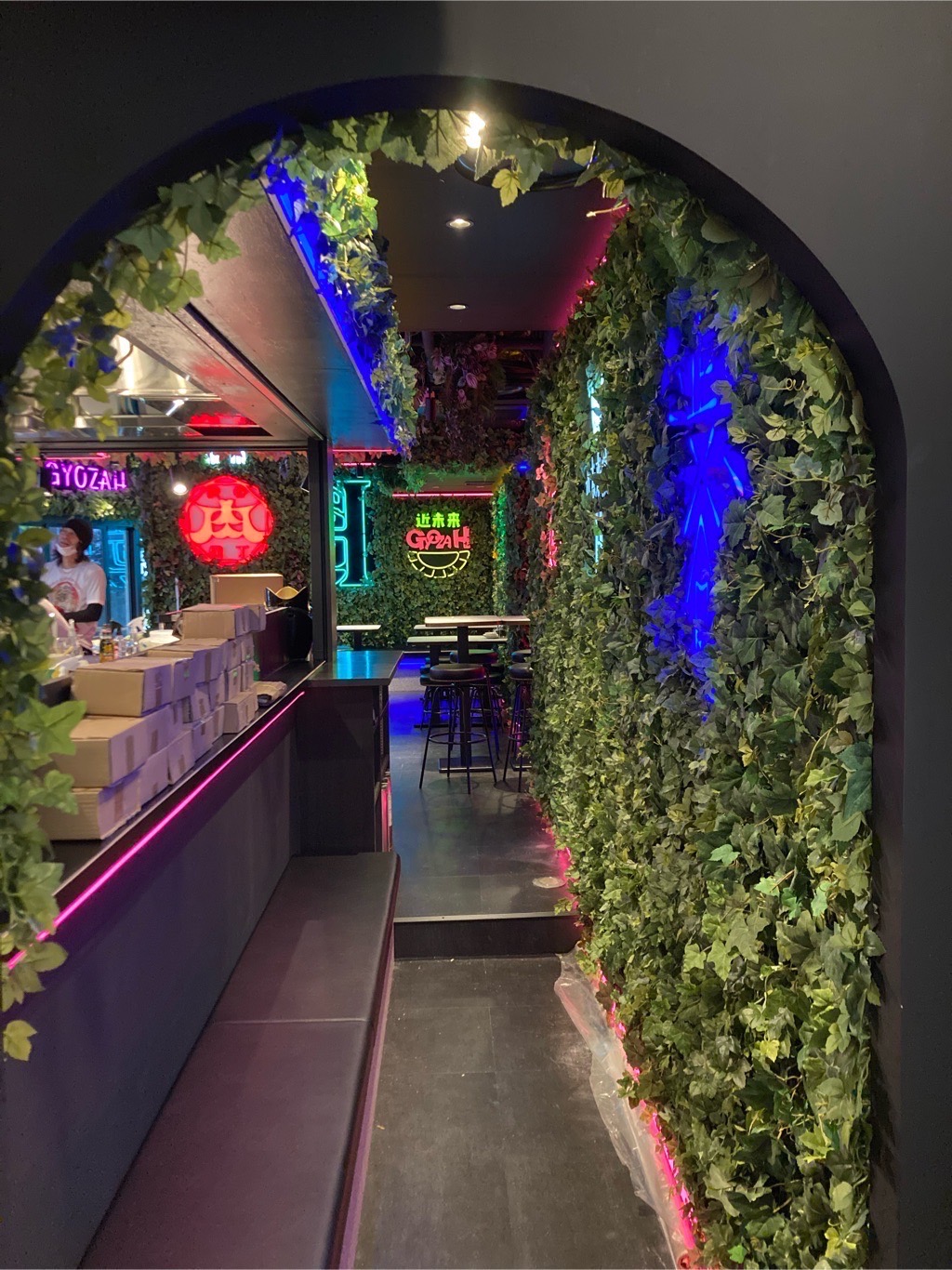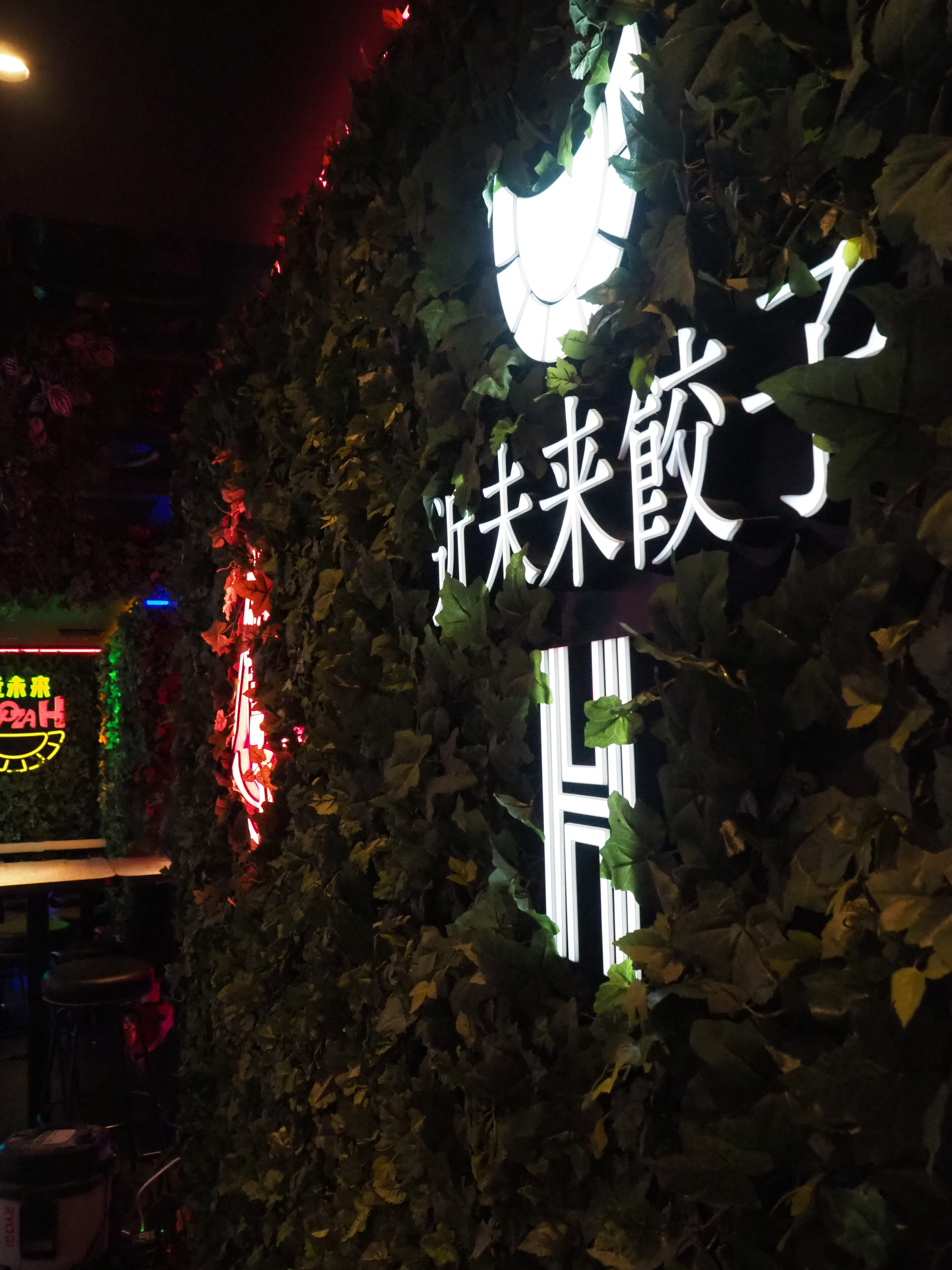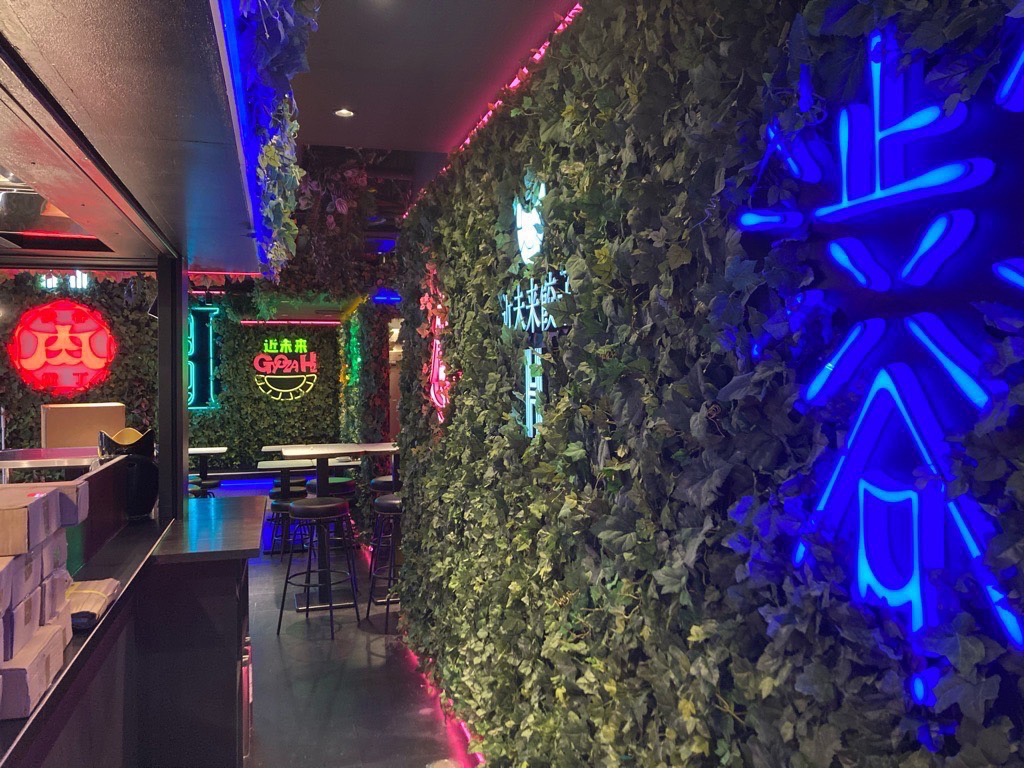 提供するのは餃子。餃子は鉄板で焦げ目をつけて焼くため「茶」の色彩になる。場所は若者が多く集まる渋谷。こういった立地環境もあり、餃子と店内を同時に撮影した際に背景にどんなものが写り込んでほしいのか?食材と建物とのコントラストが強く出るようにネオン管の配置も行っている。
The gyoza is served. The gyoza are baked on a griddle with a charred finish, which gives them a "brown" color. The restaurant is located in Shibuya, where many young people gather. Because of this location, we asked ourselves what we wanted to appear in the background when we photographed the gyoza and the interior of the restaurant at the same time. Neon tubes were placed to create a strong contrast between the food and the building.
DATA
竣工

2022.12

建築地

東京都渋谷区

用途

店舗
Completion

2022.12

Building site

Shibuya, Tokyo

Principal use

store