WORKS
明翫組 社屋
Myogan-gumi Company Building
金沢の文教地区に100年以上続く、公安土木工事を主とする建設会社の本社屋の新築プロジェクトである。同社は近年、住宅事業にも積極的に取り組まれ、従来の土木会社のイメージを一新したいとのご要望ももたれていた。
This is a new head office building project for a construction company that has been located in the educational district of Kanazawa for more than 100 years and mainly engages in public safety civil engineering work. The company has been actively involved in the housing business in recent years and wanted to change its image from that of a conventional civil engineering company.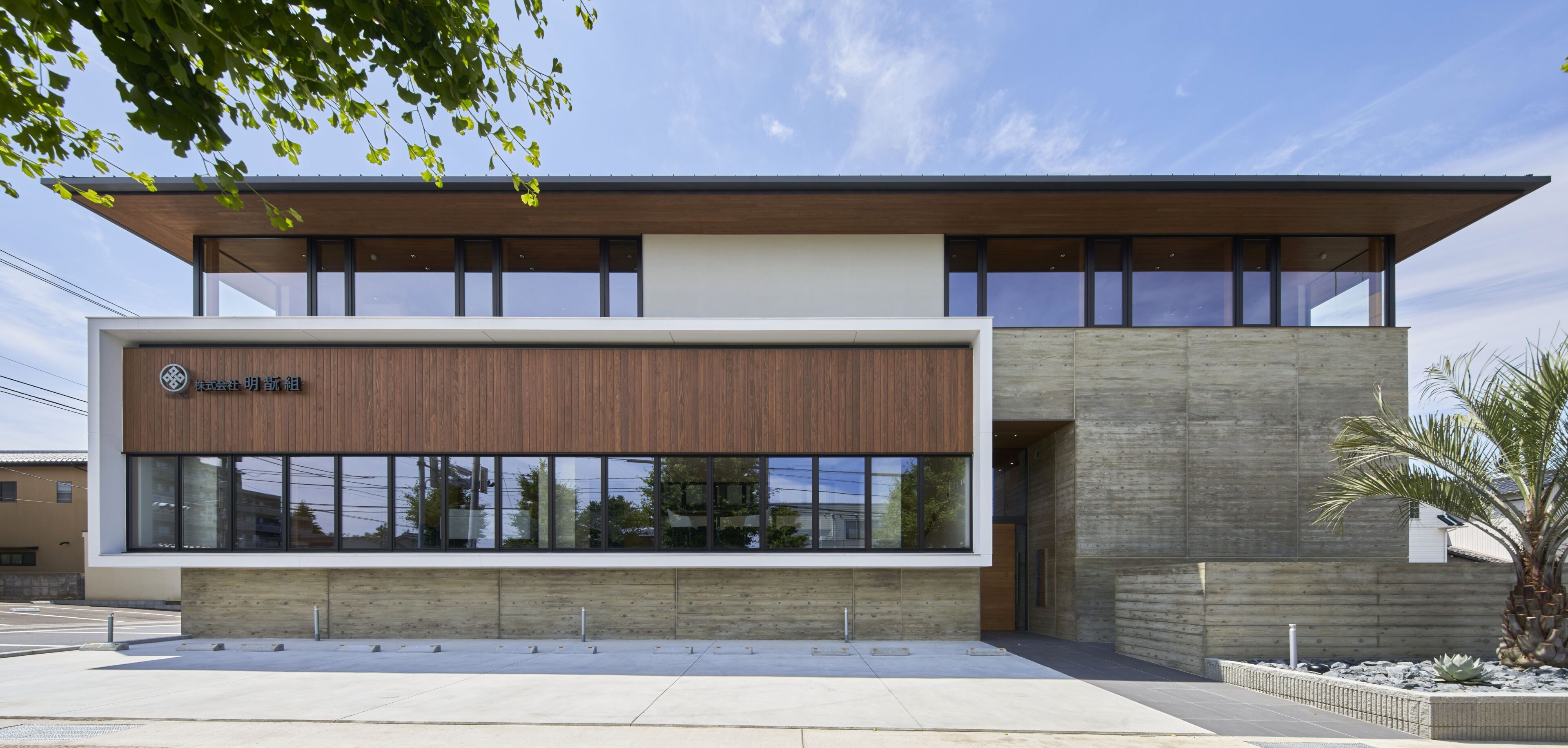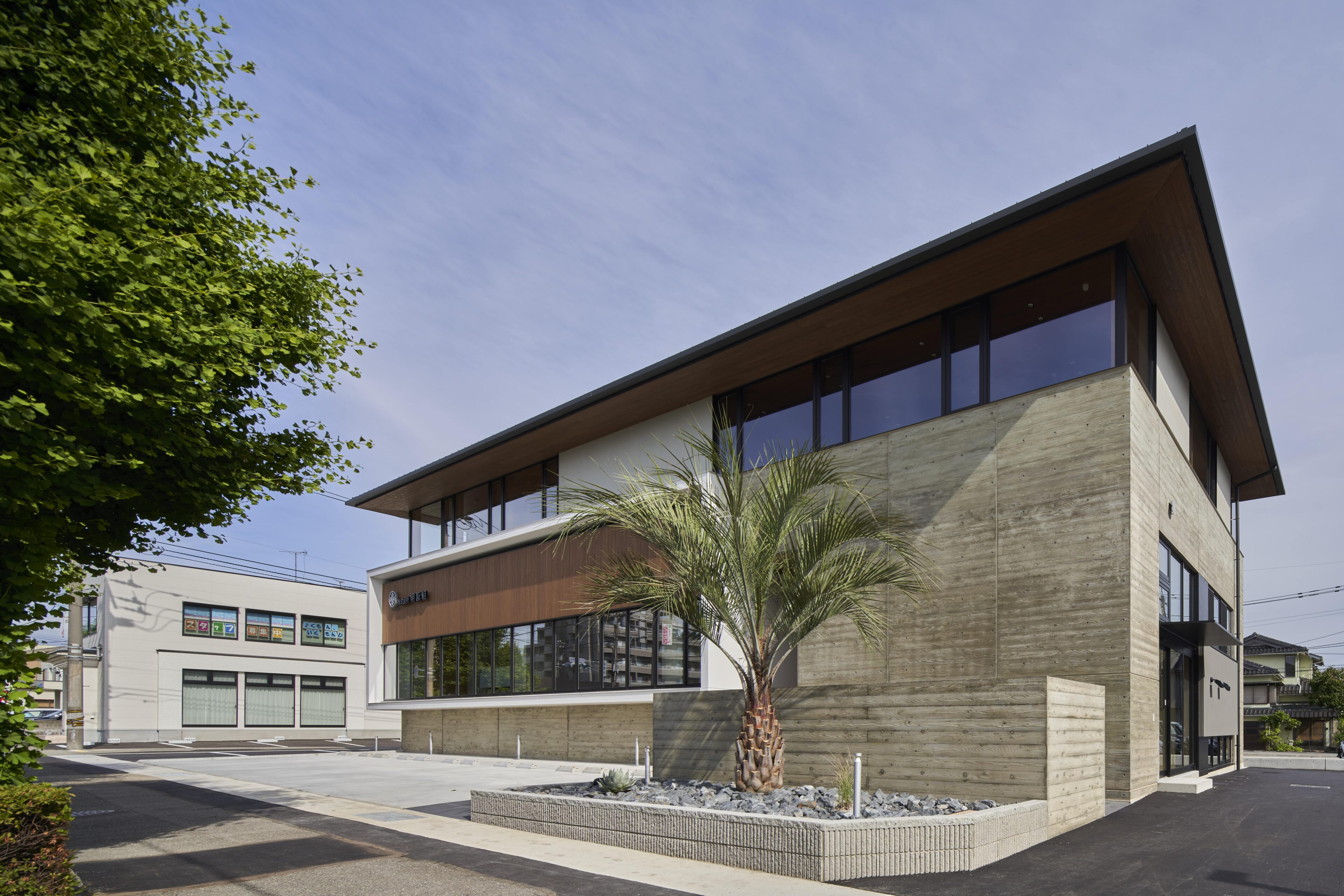 建築地は金沢でも有数の文教地区ということも有り、周辺は瀟洒な建物や住宅が並ぶ閑静な住宅街。そのため、高層の建物ではなく、この地区に馴染む建物とするため低層の社屋をご提案した。
The building site is located in a quiet residential area with elegant buildings and residences, as it is one of the most prestigious educational districts in Kanazawa. Therefore, we proposed a low-rise office building that would fit in well with the area, rather than a high-rise building.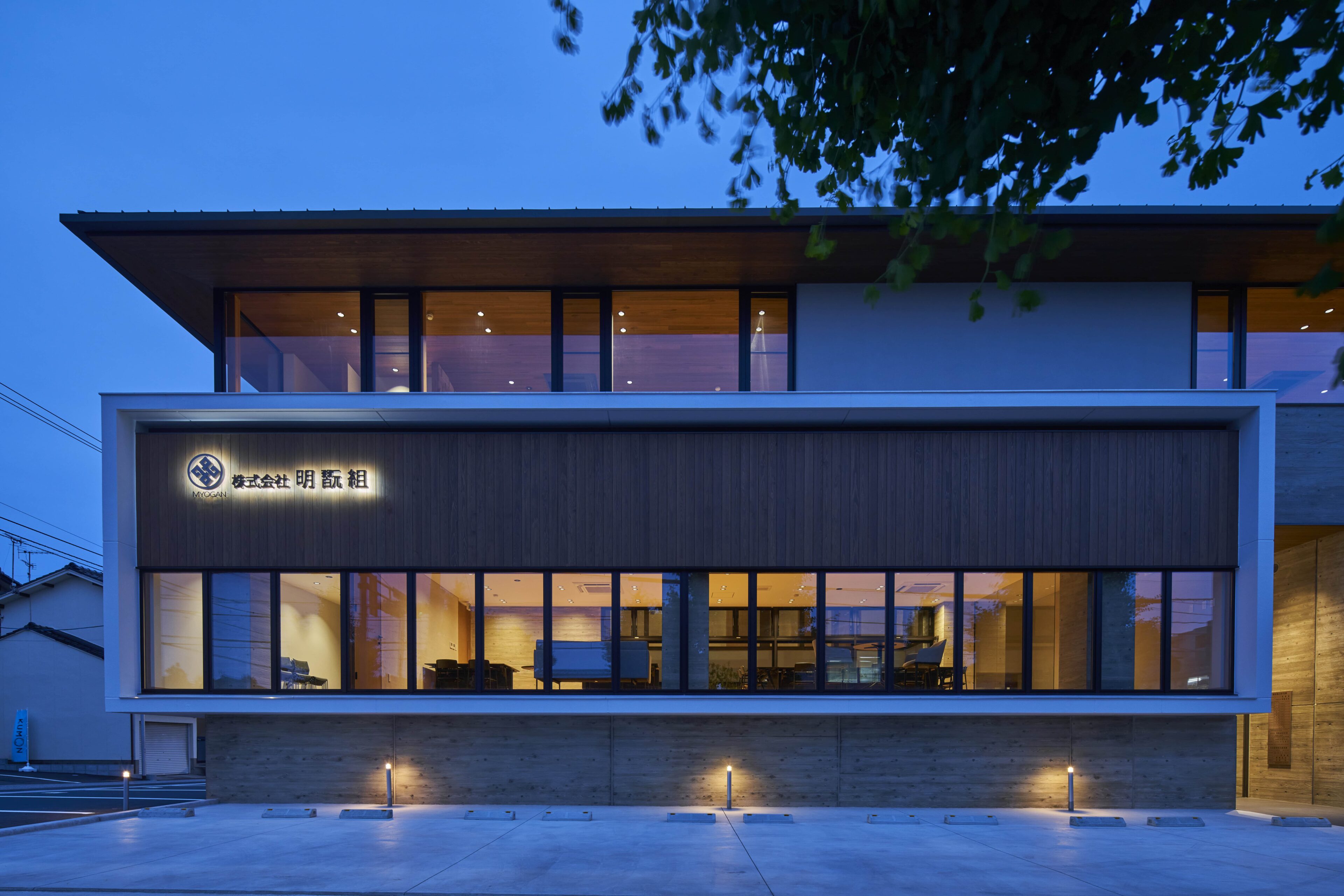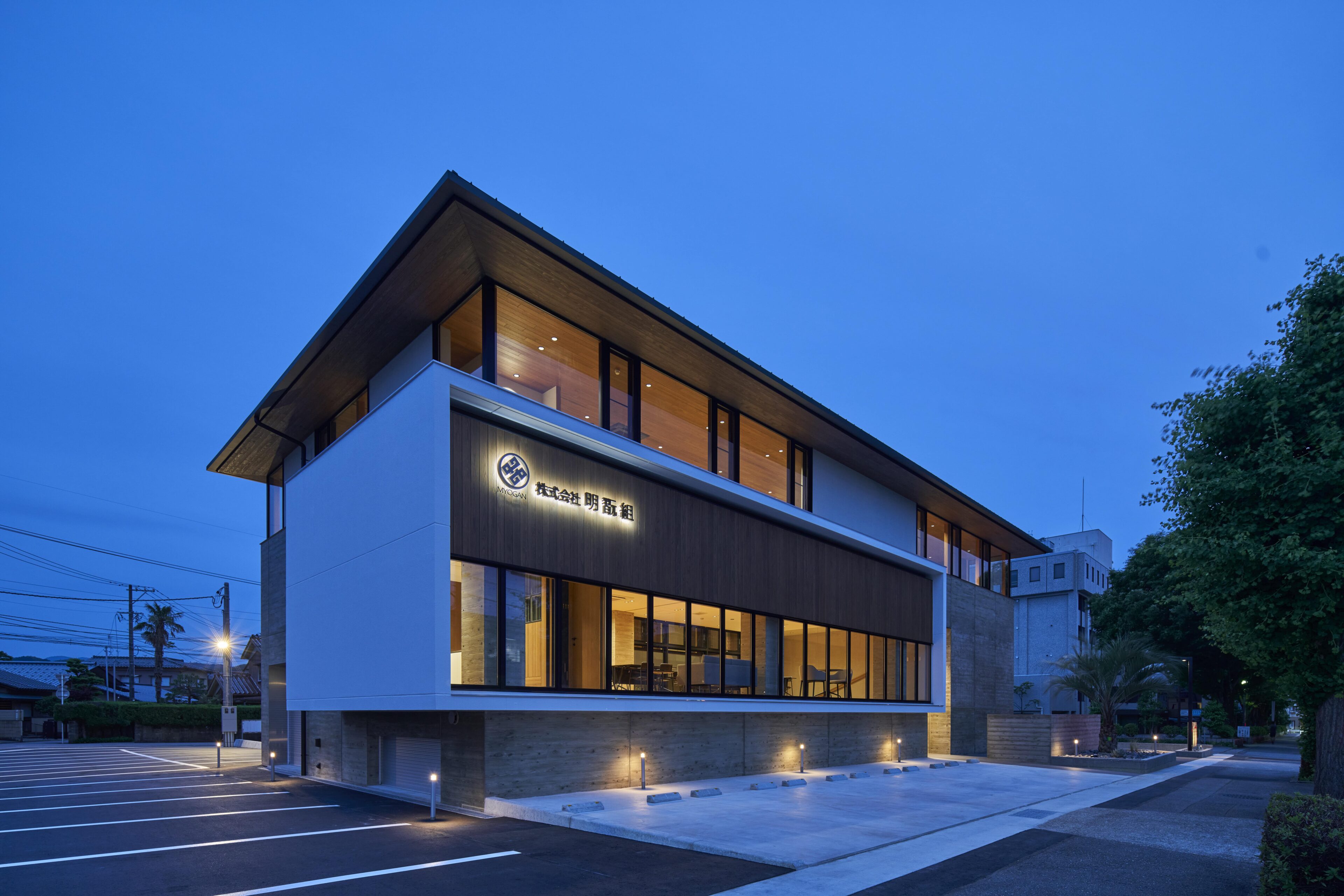 地下1階、地上2階のこの建物は、スキップフロア構造になっており最上階が木造、その下はRC造の混構造の建物となっている。敷地は幹線道路に面しており、建物自体をセットバックすることで、視覚的にも建物の高さを低く抑え、街並みや景観に配慮する佇まいを模索した。
The building, which has one basement floor and two stories above ground, has a skip-floor structure, with the top floor made of wood and the bottom floor made of RC. The site faces an arterial road, and by setting back the building itself, we sought to visually reduce the height of the building and create an appearance that takes the streetscape and landscape into consideration.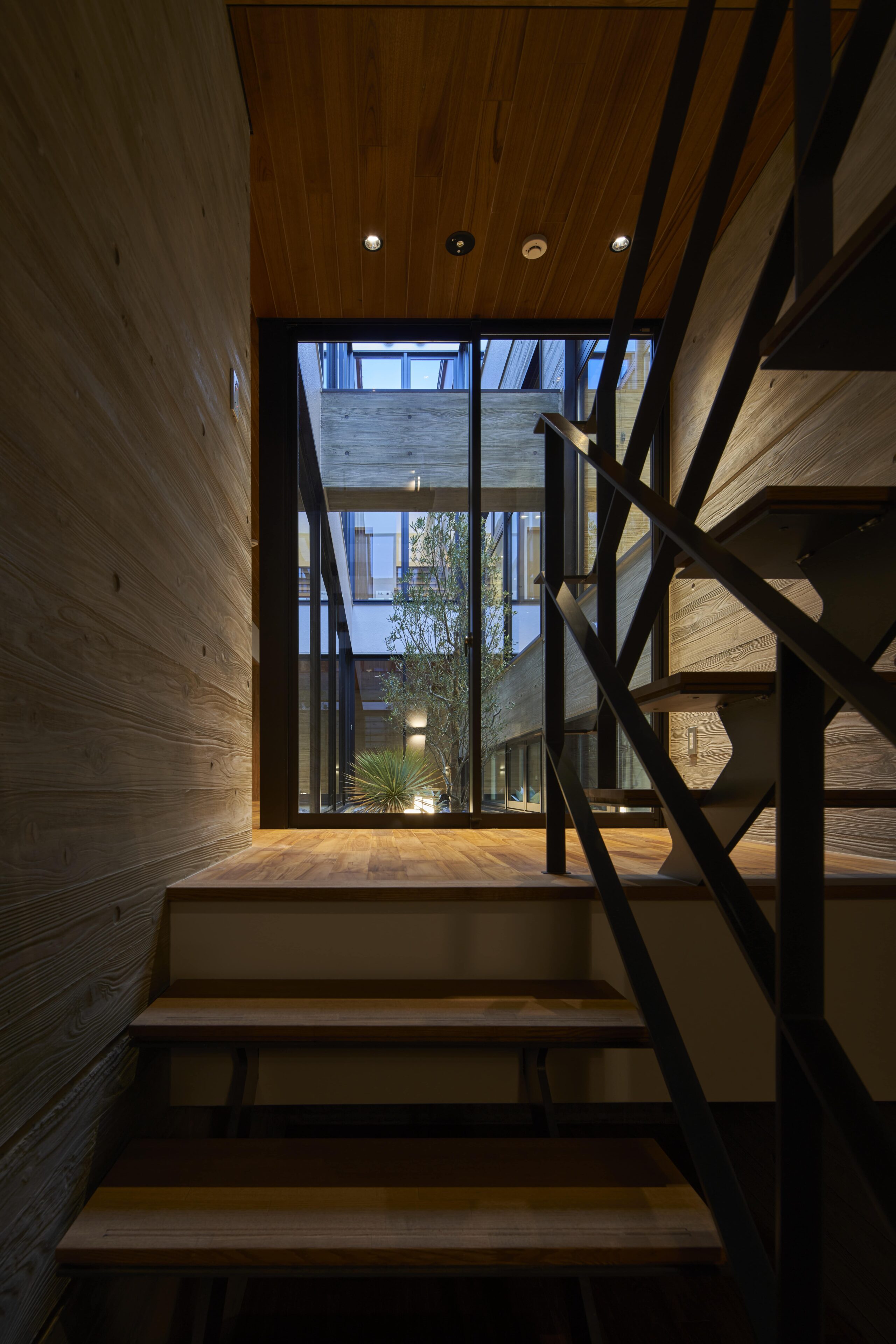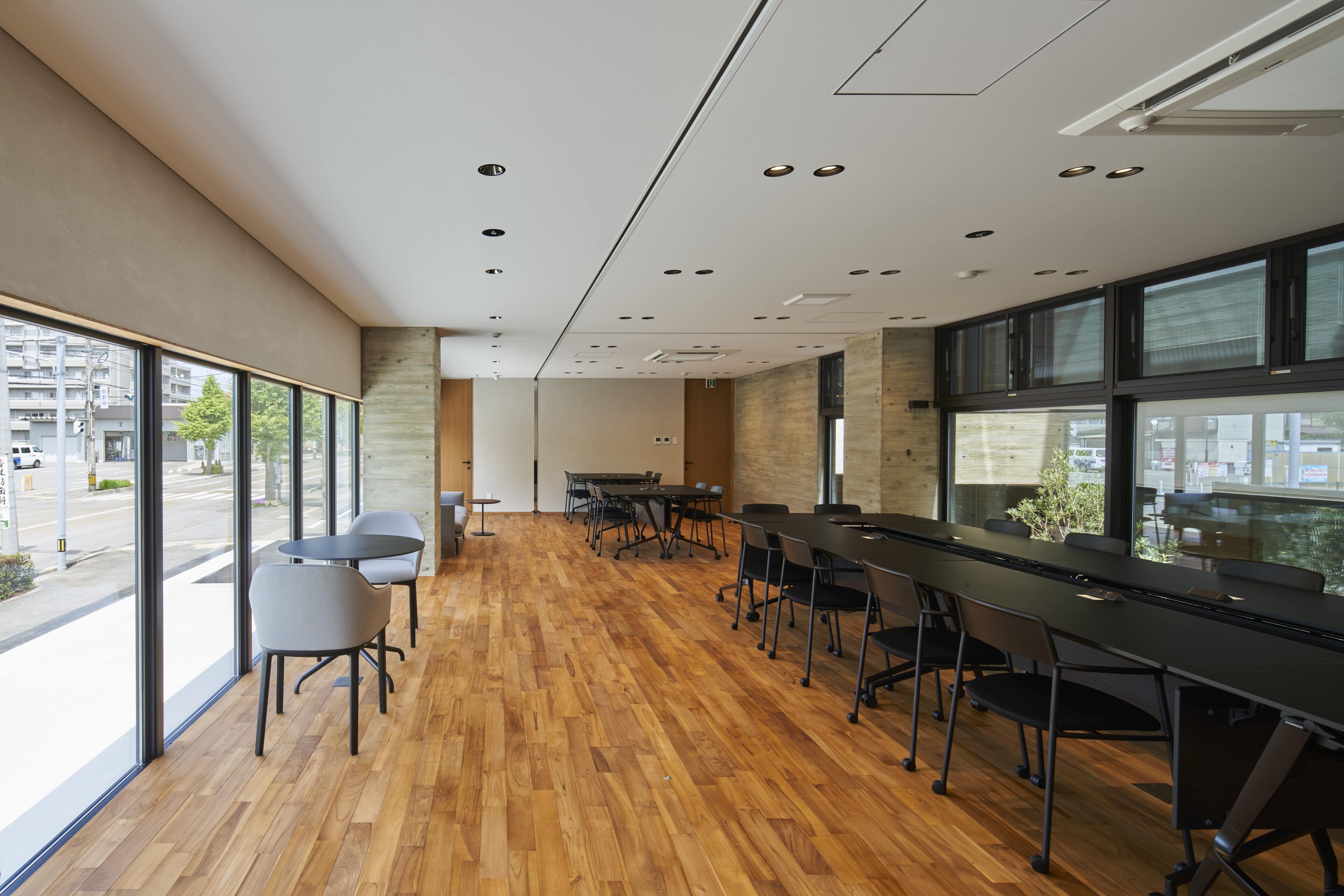 1階~2階は商談スペース及び一部をテナントとし、3階部分がオフィスとなっている。特筆すべきは開放的な商談スペース。従来の土木会社の商談スペースは、窓のない会議室をイメージされる方が多いと思うが、周囲に窓を巡らせ明るい空間を演出。中庭を取り入れることで軽やかな雰囲気を生み出した。
The first two floors are used as business meeting space and some as tenants, and the third floor is used as offices. Of particular note is the open business meeting space. Many people may imagine a conventional civil engineering company's business meeting space to be a windowless conference room, but this space is surrounded by windows to create a bright space. By incorporating a courtyard, a light atmosphere was created.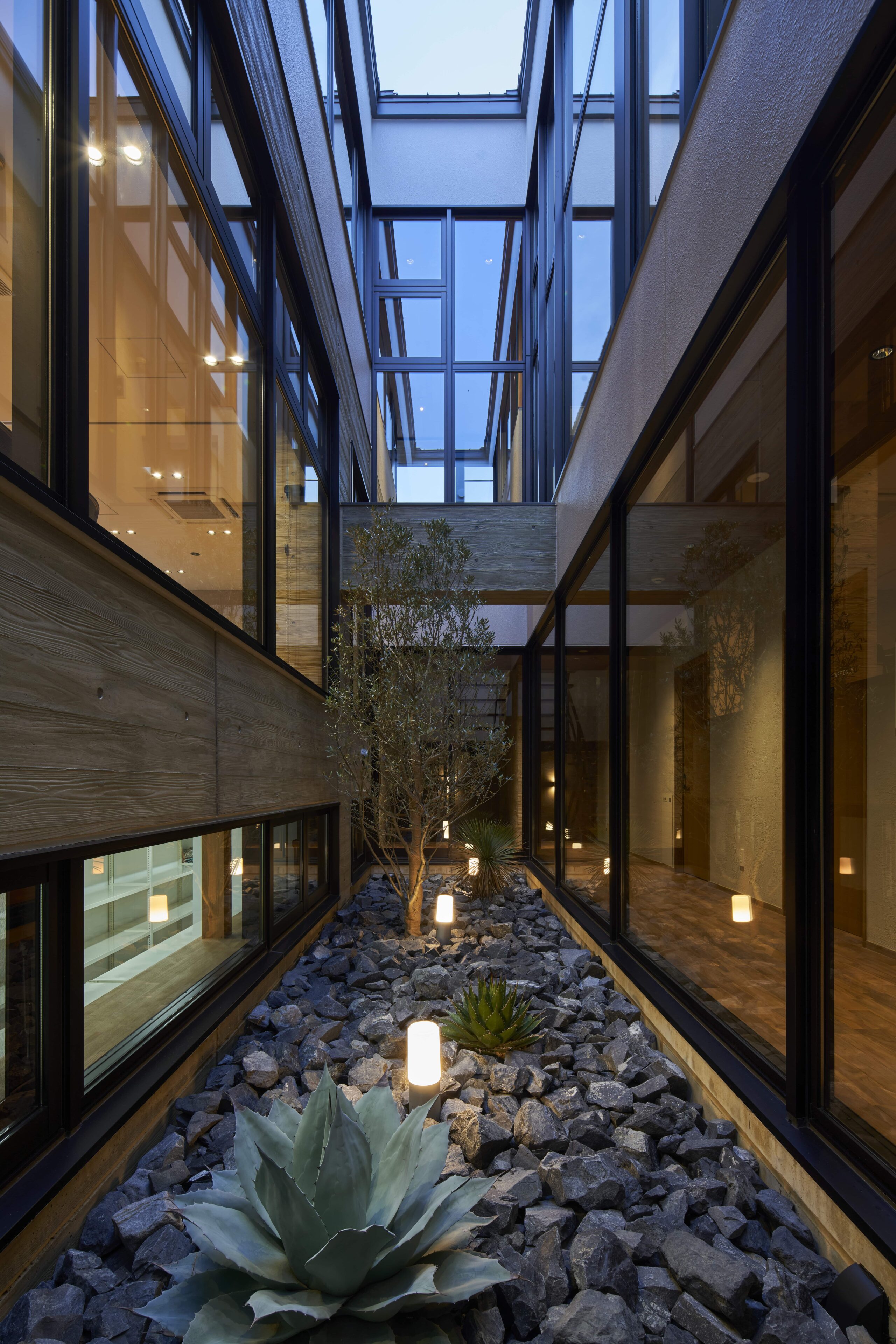 トップライトから降り注ぐ自然光は2階、1階にもマイルドな光を供給し、どの階にも柔らかな光を誘う。RC造部分は、打ちっぱなしコンクリートの印象を和らげるため、型枠に杉板を用い、木目パターンを生み出すことで、最上階の木造部との調和も図っている。
The natural light pouring down from the top light provides mild light to the second floor and the first floor, inviting soft light to all floors. cedar boards are used for the formwork to soften the impression of cast concrete in the RC section, creating a wood grain pattern that also harmonizes with the wooden section on the top floor.
DATA
竣工

2022.06

建築地

石川県金沢市

用途

社屋

構造

混構造 地下1階 地上2階
Completion

2022.06

Building site

Kanazawa city, Ishikawa

Principal use

company office building

Structure

Mixed structure: 1 basement floor, 2 floors above ground